Research article
Open Access
Open Peer Review
This article has Open Peer Review reports available.
Antagonistic pleiotropy as a widespread mechanism for the maintenance of polymorphic disease alleles
BMC Medical Genetics
2011
12:160
Received: 27 May 2011
Accepted: 12 December 2011
Published: 12 December 2011
Abstract
Background
Many serious diseases have a genetic basis which, from an evolutionary point of view, should have been selected against, resulting in very low frequencies. The remarkable sustained prevalence of a number of disease-associated alleles is therefore surprising. We believe that antagonistic pleiotropy, when multiple effects of a gene have opposing effects on fitness (e.g., sickle cell disease), may be more widespread than typically considered. We hypothesize that, rather than being an exception to the rule of genetic disorders, antagonistic pleiotropy may be common.
Methods
We surveyed the medical literature in order to determine whether sufficient evidence exists to reassess the nature of antagonistic pleiotropy; from being considered an unusual scenario to one that is anticipated. We also used a simple population genetic model to examine the feasibility of antagonistic pleiotropy to act as a mechanism to maintain polymorphism for serious genetic disorders even if the benefits are subtle.
Results
We identified a number of examples of antagonistic pleiotropy where the deleterious effect, the beneficial effect, and the exact molecular cause have been demonstrated. We also identified putative cases in which there is circumstantial evidence or a strong reason to expect antagonistic pleiotropy in a genetic disorder. The population genetic model demonstrates that alleles with severe deleterious health effects can be maintained at medically relevant frequencies with only minor beneficial pleiotropic effects.
Conclusion
We believe that our identification of several cases of antagonistic pleiotropy, despite the lack of research on this question and the varied natures of the types of these disorders, speaks to both the underappreciated nature of this phenomenon and its potentially fundamental importance. If antagonistic pleiotropy is as common as our research suggests, this may explain why so many serious diseases, even apparently environmentally caused ones, have a genetic component. Furthermore, acceptance of a genome full of antagonistically pleiotropic genetic interactions poses important implications for clinical treatment and disease prevention research, especially genetically based therapies.
Keywords
Cystic FibrosisMalariaTriose Phosphate IsomeraseAndrogen Receptor GeneAntagonistic Pleiotropy
Background
The human genome is the product of an evolutionary history that combines mutational processes and natural selection; since this process appears to be a very effective mechanism for optimizing many traits (i.e., adaptation) it is reasonable to question why so many genetic disorders (i.e., non-optimal alleles) exist. Genetic disorders are typically defined as «mutant» alleles that confer deleterious effects on their possessors (usually, but not always, homozygotes for the mutant allele) relative to those possessing wildtype or normal alleles. Although genetic drift and mutation selection balance can explain the presence of segregating allelic variation for deleterious traits, many genetic disorders are present at frequencies higher than we would expect from a historical process by which mutations arise and are then eliminated by selection over time. A potential resolution to the discrepancy between our expectations of very low rates of genetic disorders and our observations of remarkably common genetic disorders involves considering the other effects of these mutant alleles aside from just the deleterious ones.
In contrast to long-held notions whereby single genes encoded single functions (e.g., «the» eye color gene), most genes are now recognized to have multiple qualitatively distinct functions, a phenomenon termed pleiotropy [1]. A simple thought experiment where we consider that the human genome has approximately 23,000 genes (with multiple genes involved in the formation of each aspect of our phenotype) encoding a phenotype with more than 23,000 aspects demonstrates that many genes must have multiple functions. This being the case, allelic variants that arise due to mutation may change the performances of that gene's functions differently such that sometimes these changes result in opposing effects on fitness - i.e., some mutations can improve the performance of one aspect of a gene's function while simultaneously making another worse. Such a phenomenon is termed antagonistic pleiotropy, the pleiotropic functions of the same gene act antagonistically in terms of the fitness of the possessor. To date, consideration of the implications of such antagonistically pleiotropic effects has largely been the purview of studies of senescence.
Senescence is associated with distinct changes in the physiology of individuals as they age [2]. Natural selection acts on differences in relative fitness (which is comprised of both mortality and reproduction) in individuals within populations; the lack of natural selection to completely eliminate many deleterious senescence-associated traits explains their sustained prevalence in populations of humans. The most widely held evolutionary explanation for the continued presence of senescence incorporates the aforementioned antagonistic pleiotropy; an allele that causes deleterious traits can actually be selected to increase in frequency over time if the deleterious effects on the fitness of the possessor are outweighed by other advantageous effects also due to the allele [3].
Natural selection acts the strongest on traits manifested during an organism's peak reproductive value, an age that corresponds to the beginning of reproduction in most species (i.e., sexually mature, but young), and benefits to an organism during this time increase overall fitness more than those manifested at other ages [1]. In contrast, natural selection is the weakest on traits manifested after the majority of an organism's reproduction is complete (i.e., middle-aged or elderly), and detriments to an organism during this time reduce overall fitness less than those manifested at earlier ages. Pleiotropically antagonistic alleles that provide a net increase in fitness therefore tend to be those with benefits expressed at a young age, favoring either fertility or survival, while the detrimental phenotypes are not expressed or do not display high penetrance until post-reproduction. A long history of selection for, and fixation of, such antagonistically pleiotropic alleles is thought to account for biochemical pathways and physiological processes that work well in youth, but less well in older age - i.e., senescence [1, 3].
Previous studies have discussed the influence of senescence on different human diseases such as atherosclerosis [4], sarcopenia [5], osteoporosis [6], immunodeficiency disorders [7] and neurodegenerative disorders such as Alzheimer's([8] (see also a review in [9]). In fact, a number of alleles associated with a range of other diseases may have possessed similar antagonistically pleiotropic effects and led to specific aspects of our senescence. For example, it has been argued that positive selection and sexual conflict may account for increased carcinoma risk [10]. They reason that higher selective pressures due to sexual and generational conflict resulted in positive selection, as suggested by relatively high rates of nucleotide and amino acid sequence evolution in genes associated with such conflicts, and that these changes had maladaptive pleiotropic side-effects that increase the rate of carcinoma [10]. We suggest that in addition to antagonistic pleiotropy contributing to the fixation of carcinoma causing mutations it may contribute similarly to current polymorphisms of other alleles associated with cancer and other non-cancerous conditions.
Previous consideration of this topic has tended to focus on selection that resulted in the fixation of alleles that cause their deleterious effects in older age, changing the default (i.e., wildtype) condition in the population. In actuality, natural selection is often a slow and gradual process and many alleles that differ in their effect on fitness can be present in populations for prolonged periods, especially if the overall fitness differences are small. For example, an allele that confers a noticeable disadvantage at one stage of life may also favor the individual at another stage of life and if the net effect is small then selection to change the allele's frequency will be weak and the frequency will be changed slowly by selection. Natural selection can also act to actively maintain alleles with individually deleterious effects in populations if they act synergistically to increase fitness when present together (e.g., via heterosis or epistatic interactions).
A clear example of a medically relevant antagonistically pleiotropic polymorphic allele was recently described [11]. They conducted a cohort study of 99 individuals in Ecuador with Laron Syndrome, a rare form of Dwarfism. Individuals with Laron Syndrome may possess one of three different genotypes relating to their Growth Hormone Receptor gene (GHR); most individuals carry an A to G splice site mutation in position 180 in exon 6 while some carry a nonsense mutation designated as R43X and others are heterozygous for these two mutations. That study followed Laron Syndrome patients and their non-dwarf kin from 1988 to 1998 and recorded medical information. The study found that patients with Laron Dwarfism experienced virtually no incidences of cancer whereas their non-Dwarf kin experienced a 17% cancer mortality rate. Laron dwarfs also seemed to be protected from diabetes; no incidences were reported among Laron patients whereas their kin suffered a 5% mortality rate. The presence of the various mutant GHR alleles in this population may be due to drift (the population is quite small and relatively isolated), but may also be due to selection acting to maintain this allele in the population due to the benefits provided. While the allele described in this case is rare and represents a minor overall effect on health and fitness of the wider population, if this general phenomenon of antagonistic pleiotropy is more common it may account for disorders that have more widespread impact. The recognition that alleles identified as being deleterious may also provide benefits is one that we believe has been underappreciated in the medical literature.
The purpose of this investigation is to determine whether evidence of balancing selection due to antagonistic pleiotropy, heterosis or epistatic interactions is seen in alleles associated with increased risk of certain human diseases. As the phenomena of heterosis and beneficial epistatic interactions are likely to arise from the multi-functional nature of genes, we use the term antagonistic pleiotropy as a catch-all term to refer to alleles that act in any of these manners. If the net relative fitness conferred by pleiotropically antagonistic alleles with mixed effects is higher, or even just comparable, to wildtype individuals then such alleles would likely continue to persist in the population. If mutations that create such pleiotropic alleles are not extremely rare, widespread antagonistic pleiotropy may explain the maintenance and high prevalence of many disease-associated alleles. It becomes of great importance therefore to determine whether antagonistically pleiotropic alleles are likely to be rare or may be more common than previously realized.
Methods
In the body of this manuscript, evidence of antagonistic pleiotropy in several major diseases is presented on a disease by disease basis. The pleiotropic alleles, their benefits and their pathophysiological costs are all briefly outlined. Our review of the research literature supports the hypothesis that at least some of the genetic factors that increase disease severity or risk may also confer certain reproductive or survival benefits, and therefore provides support for the importance of antagonistic pleiotropy as a causal mechanism for the persistence of disease causing alleles. We would also like to stress that, due to the lack of attention paid to the potential benefits of alleles associated with different pathologies, we believe that our collection of examples may only touch the surface of the phenomenon and is a conservative estimate of its prevalence. After describing a number of conditions in detail (summarized in Tables
1
and
2
) we discuss possible implications of widespread antagonistic pleiotropy for current and proposed medical treatments, clinical trials and research.
Table 1
Antagonistically pleiotropic disease alleles.
| Deleterious effect (disease) | Gene: variation | Benefit |
| --- | --- | --- |
| Increased risk of cancers: ovarian (females), prostate (males). | AR: CAG trinucleotide repeat lengths. | Females: increased fertility via reduced degree of pre-mature ovarian failure, reduced risk of breast cancer. Males: increased number of viable sperm, reduced risk of Kennedy's Disease. |
| Huntington's disease. | HTT: CAG trinucleotide repeat lengths. | Increased fertility, decreased risk of certain cancers. |
| Sickle cell disease. | Hbb: various point mutations. | Protection against malaria in the heterozygous state. |
| Beta-thalassemia. | HB: various point mutations | Protection against malaria in the heterozygous state. |
| Glucose-6-phosphate dehydrogenase (G6PD) deficiency. | G6PD: various missense mutations. | Protection against malaria. |
| Cystic fibrosis (CF) | CFTR: missense mutation. | Increased fertility. |
| Increased risk of osteoporosis in old age. | ALOX15: A:G intronic polymorphism. | Reduced risk of osetoporosis in youth. |
Table 2
Putative antagonistically pleiotropic disease alleles.
| Disease | Gene; Variation | Putative Benefit |
| --- | --- | --- |
| Triosephosphate Isomerase Deficiency | TPI Gene: point mutations. | Reduction in oxidative stress. |
| Tay Sachs | HEXA: missense mutations. | Protection against tuberculosis. |
| Hemachromatosis | HFE Gene: many point mutation. | Better iron absorption, increased resistance to typhoid fever and tuberculosis |
| Phenylketonuria | PKU: missense mutation. | Lower probability of miscarriage |
| Leukemia | PTNP11: various expression level mutations. | Lower probability of hepatocellular carcinoma |
| Schizophrenia | Chromosomal regions 6p22-p24 and 11q21-22. | Higher relative fertility (in unaffected relatives). |
| Cancer | TNFRSF11B Gene; Various Polymorphisms | Increased Bone Density in Females |
Discussion
We have presented a number of examples where antagonistic pleiotropy has been demonstrated (Table 1) or proposed (Table 2) for disease causing alleles. We feel that antagonistic pleiotropy may provide a potential explanation for the sustained prevalence of many disease-associated alleles in the human population and may be a widespread phenomenon. Because individuals who possess these alleles may have an equal or comparable relative fitness despite their allele's deleterious effects (or the increased risk of experiencing deleterious effects) we predict that pathology-associated alleles will continue to be present in successive generations despite their apparent maladaptive nature.
Although some of the studies cited predict an increase in the frequency of these pleiotropic alleles (e.g.,[15]), whether or not the frequencies of these alleles will increase in successive generations is influenced by changing environmental, medical and social conditions which alter the negative and positive aspects of genetic fitness differences. For example, chelation treatments for Beta-thalassemia have shown great benefit, changing the life expectancy of homozygotes from a few years after birth to as high as 55 years of age [69]. Another example is seen in CF patients where improved medical care in modern times has increased life expectancy of CF individuals from infancy to mid-reproductive age. Even though mortality is still usually experienced before the onset of post-reproductive age, this increase in life-expectancy can have a rather large impact on the reproductive fitness of CF individuals. With the deleterious effects on mortality reduced by modern medicine and the benefits intact these disease alleles would now have a higher net advantage and be expected to rise in frequency more than would have been possible prior to modern medicinal techniques.
On the other hand, since many of the benefits we have discussed involve resistance to diseases that modern medicine will render rarer or more treatable, the benefits may also be reduced and the net change in the fitness provided by these antagonistically pleiotropic alleles is less clear. In fact, because many of the benefits we identified involve resistance to pathogens that are now treated effectively, we may expect these advantageous effects to be reduced and natural selection to be more effective at reducing the frequencies of these alleles in the future. This evolutionary process is typically very slow however, and even if the alleles become purely deleterious, the elimination of these alleles would take a long time.
One readily noticeable feature of the examples of antagonistic pleiotropy we identified is the overabundance of advantageous effects involving malaria; we believe that such bias toward examples involving malaria is due primarily to two major reasons. First, there is a bias in favor of the search for, and recognition of, malaria resistance benefits due to the high profile of Beta-Thalassemia and Sickle-Cell disease which are both such well-known examples of over-dominance that they are often taught in the introductory biology curriculum that medical researchers experience. Such previous exposure pre-disposes epidemiological researchers to consider malaria foremost when investigating explanations for the high frequency of disease alleles. For example, a recent epidemiological study was able to generate a highly detailed map of the distribution of malaria cases worldwide [28]. In accordance with expectations, the highest prevalence of malaria incidences occurred in Mediterranean and African regions, displaying a 58% prevalence rate in 2010. This is an increase since 2002 from a prevalence rate of 56.9%. We, therefore, expect the highest frequencies of malaria resistance mutations to be found in these regions and studies such as this one indicate the level of attention paid to this disorder. Second, the ease with which heterozygous advantage can be demonstrated with these diseases can also be a contributing factor. Malaria is mainly confined to Mediterranean and tropical regions of the world and such a clear geographical distribution allows for a relatively straightforward comparison of allele frequencies in regions likely and unlikely to benefit from malaria protection. Malaria is also a very common and serious disorder overall, leading public health agencies to collect detailed data and provide funding for research related to understanding this disease.
Recognition of the advantageous effects of other disease alleles may be harder to demonstrate experimentally if the advantage provided by the allele does not have a clear and qualitative effect (e.g., if the advantage is only a reduced risk of a disorder rather than a complete elimination of a condition). Such advantageous effects may not be recognized except in studies with large sample sizes in which many aspects of the health of the subjects are recorded. The recent rise of SNP-based association studies may lead to many more discoveries, but only if researchers are measuring a wide range of fitness components. In the ALOX15/BMD example described above [39], the pleiotropy of the identified allele was only recognized because the effects both involved the measured trait. The increased reproduction associated with the Huntington's disease allele was only demonstrable by measuring the number of offspring born to sufferers [15].
For these reasons we recommend that many more variables be measured when conducting studies of associations between alleles and medical conditions that are typically included in published analyses. Life history variables such as total reproduction or age at first reproduction are directly related to fitness and advantageous genetic effects may be made apparent if these values are recorded. We also suggest that additional health relevant statistics such as blood pressure, cholesterol or BMI be measured and included in studies of associations between alleles and medical conditions as they may reveal otherwise overlooked advantageous aspects of allelic differences. Measurement of additional variables carries the risk of false-positives, but follow up studies can be used to minimize that risk whereas failure to record data leads to missed effects that would not be discovered later.
Antagonistic pleiotropy may also have been overlooked because the benefits of these alleles may not be large enough to be readily noticeable when compared to the detrimental effects. A brief mathematical illustration using standard techniques from population genetics (i.e., Hardy-Weinberg style formulations of equilibrium allele frequencies) demonstrates that even minor benefits can result in moderate equilibrium allele frequencies in the case of overdominance (heterozygote advantage). First, define two alleles, «A» and «a», as the wildtype and the mutant allele with relative fitness values for the three genotypes of w(AA) = 1, w(Aa) = 1+S
adv
, w(aa) = 1-S
del
. For example, a value of S
adv
= 0.1 would indicate a 10% higher fitness for heterozygotes whereas a value of S
del
= 0.2 indicates a 20% lower fitness for homozygous for the «a» allele - a value of S
del
= 1 would be an allele that is completely lethal in homozygotes. Using the terms above, and assuming that reproductive decisions are not biased by assortative mating or other factors aside from selection on the alleles, we can derive the following formulae for the equilibrium frequencies of the «a» allele and «aa» genotype:
Figures
1
and
2
show predicted equilibrium frequencies of the homozygous deleterious genotype for a wide range of realistic parameters. It may seem unlikely that situations in which the advantages plotted in Figures
1
and
2
are not well known, but selective advantages as high as the 25% shown may be unrecognized - the 39% advantage reported for individuals with the Huntington's allele relative to their unaffected siblings [
15
] was not obvious prior to study [
59
]. Even in cases in which the heterozygous advantage is minimal (approximately 1%) and the allele is lethal in the homozygous state, natural selection is expected to act to maintain the alleles and result in long-term frequencies of afflicted individuals higher than 1 in 10,000 instead of acting to remove them from the population. This conceptual example illustrates the potential for selection to maintain alleles at medically relevant frequencies even while the benefits conferred may be subtle enough as to be largely unnoticed in a clinical setting.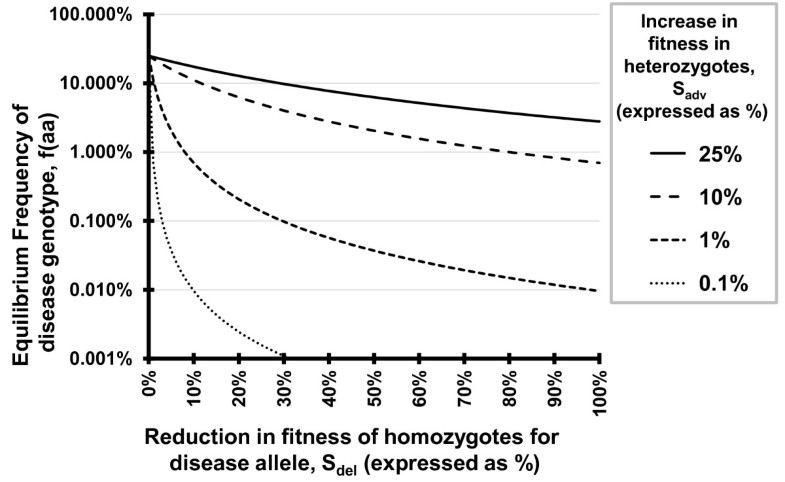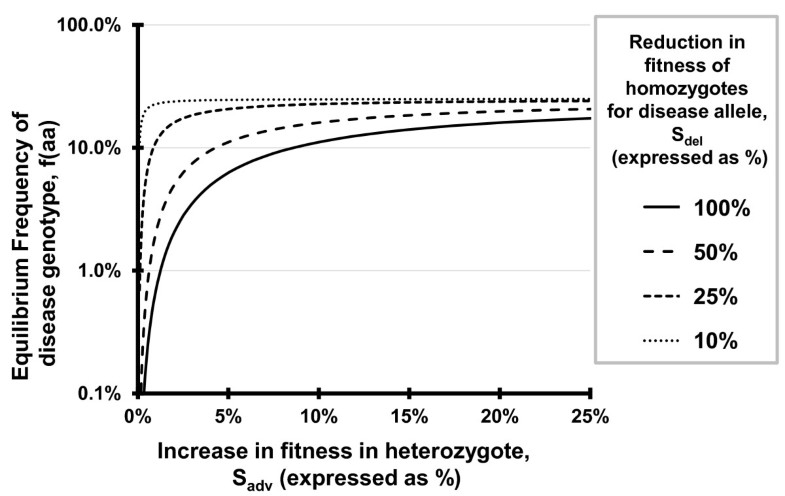 Selective benefit is not required for the observed presence of deleterious alleles in a population; purely deleterious alleles that confer no advantages persist in populations over time due to recurrent mutations countering the process of elimination by selection. Similar calculations to those above result in predicted equilibrium frequencies much smaller however; ranging from genotypic frequencies of approximately 0.0001% for lethal alleles up to 0.01% for alleles that incur an essentially unnoticeable 1% fitness reduction.
These calculations lead us to predict that from the wide array of known genetic disorders, it is the ones with the highest frequencies that we predict to be most likely to have antagonistically pleiotropic benefits. The process of antagonistic pleiotropy may therefore be highly relevant for understanding the genetic disorders most commonly experienced (i.e., those that tend to result in the highest burden to society). For more complex cases of antagonistic pleiotropy which do not fit the overdominant model examined here, we would generally expect the beneficial aspects of each allele's actions to be comparable to the deleterious effect in order to maintain the allele in the long term - this leads us to predict that we would see antagonistically pleiotropic effects more often for serious medical conditions in which the deleterious effects are more severe.
For these reasons, rather than being a process that is involved in the etiology of a random subset of all genetic disorders, we expect to see antagonistic pleiotropy overrepresented in the diseases that are the most common and have the most severe consequences.
Finally, if antagonistic pleiotropy is indeed as widespread as our reviewed findings and mathematical calculations suggest, the prevalent nature of this phenomenon presents two major implications for the research and treatment of human genetic disease.
First, identification of pleiotropic alleles that confer disease resistance or other benefits and elucidation of their mechanisms of action may aid medical and patho-physiological research. For example, in the case of Tay Sachs, if the hypothesized anti-tuberculosis benefit provided by this allele is demonstrated then identification of the exact cause of this benefit may be useful for the development of novel treatments for tuberculosis - a serious need now that more and more drug resistant strains have evolved. Advances in understanding physiology may also arise from identification of benefits unrelated to disease resistance; a full elucidation of the genetic aspects that contribute to the process by which Huntington's sufferers produce more offspring may prove useful for infertility treatment.
Second, if antagonistically pleiotropic effects are pervasive then this suggests that we use caution when we design genetically-based treatments for diseases. One currently proposed method for treating or preventing cancer is silencing gene expression via interference RNA [70, 71]; if such mechanisms completely silence the expression of an antagonistically pleiotropic allele this would lead to a reduction not only in the deleterious effect but also in any beneficial effects. By eliminating a problem we may also eliminate a benefit. For example, silencing an allele that increases the density of AR receptors may reduce cancer risk, but may also cause physiological changes that result in the patient's phenotypic traits becoming less attractive to members of the opposite sex. Especially since the main use of the identification of genetic gene-disease associations in the future will be to decide on prophylactic treatment, a full understanding of the risks and the benefits of undergoing such gene-targeted treatment is essential to ethical patient care. In cases in which a benefit is unknown (but we argue, may well exist), the unknown consequences of turning off potentially pleiotropic alleles implies that a different overall approach should be considered to avoid potential unwanted or disastrous side-effects. Rather than just focusing on a culprit disease allele and silencing it, selectively inhibiting the allele's deleterious pathway while allowing the beneficial pathway to persist becomes a more responsible, albeit more difficult, course of action.
Conclusion
We have identified a number of empirical examples where antagonistic pleiotropy has been demonstrated and more where such pleiotropy is likely. A population genetic model suggests that alleles with extremely minor fitness advantages may maintain otherwise deleterious alleles at medically relevant frequencies. Based on the availability of this information despite no concerted research effort to gather it and the mathematical argument we feel that such antagonistic pleiotropy may be a widespread phenomenon. If such pleiotropy is widespread this opens avenues for the identification of novel physiological pathways by the study of the pleiotropic effects of disease alleles and suggests that caution be taken when designing genetic therapies to eliminate the effects of genes lest their beneficial effects be removed as well.
Authors' Affiliations
(1)
Biology Department, California State University Long Beach, Long Beach, USA
Copyright
© Carter and Nguyen; licensee BioMed Central Ltd. 2011
This article is published under license to BioMed Central Ltd. This is an Open Access article distributed under the terms of the Creative Commons Attribution License (http://creativecommons.org/licenses/by/2.0), which permits unrestricted use, distribution, and reproduction in any medium, provided the original work is properly cited.