Research article

Open Access

Open Peer Review
This article has Open Peer Review reports available.
Prevalence of H63D, S65C and C282Y hereditary hemochromatosis gene mutations in Slovenian population by an improved high-throughput genotyping assay
BMC Medical Genetics
2007
8:69
Received: 09 May 2007
Accepted: 23 November 2007
Published: 23 November 2007
Abstract
Background
Hereditary hemochromatosis (HH) is a common genetic disease characterized by excessive iron overload that leads to multi-organ failure. Although the most prevalent genotype in HH is homozygosity for C282Y mutation of the HFE gene, two additional mutations, H63D and S65C, appear to be associated with a milder form of HH. The aim of this study was to develop a high-throughput assay for HFE mutations screening based on TaqMan technology and to determine the frequencies of HFE mutations in the Slovenian population.
Methods
Altogether, 1282 randomly selected blood donors from different Slovenian regions and 21 HH patients were analyzed for the presence of HFE mutations by an in-house developed real-time PCR assay based on TaqMan technology using shorter non-interfering fluorescent single nucleotide polymorphism (SNP)-specific MGB probes. The assay was validated by RFLP analysis and DNA sequencing.
Results
The genotyping assay of the H63D, S65C and C282Y mutations in the HFE gene, based on TaqMan technology proved to be fast, reliable, with a high-throughput capability and 100% concordant with genotypes obtained by RFLP and DNA sequencing. The observed frequency of C282Y homozygotes in the group of HH patients was only 48%, others were of the heterogeneous HFE genotype. Among 1282 blood donors tested, the observed H63D, S65C and C282Y allele frequency were 12.8% (95% confidence interval (CI) 11.5 – 14.2%), 1.8% (95% CI 1.4 – 2.5%) and 3.6% (95% CI 3.0 – 4.5%), respectively. Approximately 33% of the tested subjects had at least one of the three HH mutations, and 1% of them were C282Y homozygotes or compound heterozygotes C282Y/H63D or C282Y/S65C, presenting an increased risk for iron overload disease. A significant variation in H63D allele frequency was observed for one of the Slovenian regions.
Conclusion
The improved real-time PCR assay for H63D, S65C and C282Y mutations detection is accurate, fast, cost-efficient and ready for routine screening and diagnostic procedures. The genotype frequencies in the Slovenian population agree with those reported for the Central European populations although some deviations where observed in comparison with other populations of Slavic origin. Regional distribution of the mutations should be considered when planning population screening.
Keywords
Hereditary Hemochromatosis
C282Y Mutation
H63D Mutation
Prism 7900HT Sequence Detection System
TaqMan Technology
Background
Hereditary hemochromatosis (HH) is an inherited autosomal recessive disorder of iron metabolism. Due to excessive intestinal absorption, iron accumulates in parenchymal cells of the liver, pancreas, heart and other organs with resultant damage to their structure and impairment of their function. It is one of the most common genetic diseases in Caucasians with a prevalence of nearly 1 in 300 [1]. Although the symptoms of the disease are often nonspecific, much of the organ damage is irreversible once it has occurred. Early detection and therapy is therefore very important as a part of preventive medicine. The discovery of the responsible gene HFE in 1996 enabled molecular analysis to be included in the diagnostic strategy for HH [2]. A number of different HFE mutations have been reported so far. The majority of HH cases (52–96%) in European regions are associated with a homozygous 845G→A mutation within exon 4 of the HFE gene, which results in amino acid change at position 282 from cysteine to tyrosine (C282Y) [1, 2]. A second mutant allele 187C→G detected with relatively high frequency occurs within the exon 2 of the HFE gene where aspartate replaces histidine at amino acid position 63 (H63D) [2]. The contribution of this allele to iron overload is most relevant in the case of combined heterozygosity with C282Y allele (C282Y/H63D) [3, 4]. The third common mutation of HFE is 193A→T substitution in exon 2 (S65C) and was shown to be generally benign, although a C282Y/S65C genotype may confer a slight increase in disease risk, contributing to a mild disease phenotype [4–6]. Many of the other HFE mutations described are private and rare, or they were found to be significantly enriched only in certain regions [7]. Therefore the frequencies of the HFE mutations in the general population and in patients with clinically expressed disease have to be established in order to implement appropriate genetic tests in diagnostic and screening procedures for HH. There are very few studies providing information about the frequency of any of these three major HH mutations in populations of Slavic origin [8–12]. Only one study, based on RFLP method, is reported for the Slovenian population and is based on a limited number of subjects [11]. However, we have no data yet about the frequency of the HFE mutations in the Slovenian healthy population and in patients with clinically expressed disease nor do we have data about distribution of HH genotypes in different Slovenian regions.
Since HH is a genetic disorder that fulfils most of the WHO criteria for large-scale population screening program [13], the availability of a cost-effective method is an important issue. Although genetic testing for HH is generally not recommended as the first step in a wide population screening program because of uncertainty about the natural history of the disease, age-related penetrance and the psychosocial impact of genetic testing, its major role in confirmation of the diagnosis cannot be overlooked. Furthermore, family genetic testing performed among the relatives of a newly diagnosed patient also enables detection of subjects in the pre-symptomatic phase [14, 15].
Many PCR-based methods were reported for HH mutation detection, however, real-time PCR-based assays with TaqMan technology seems to be one of the most prominent among them. The fluorescent TaqMan probes with minor groove binder (MGB) are shorter and thus significantly more specific for single nucleotide polymorphisms (SNP) detection than standard DNA probes or allele specific PCR derivatives. The technology itself is completely flexible and suitable for the extremely high-throughout screening procedures since it combines the PCR amplification and detection into a single step therefore also minimizing the possibility of contamination [16]. An objection of so far reported TaqMan-based assays for the H63D and C282Y mutation detection was mainly the improper design of the probes for HFE codon 63 screening, which are too long and overlap the polymorphic position of the HFE codon 65 [16–18]. This could lead to the misinterpretation of results obtained by those probes and therefore more optimized probes are critical for a reliable genotyping assay. It is worth to stress that the TaqMan probes for the detection of the S65C polymorphism have not been reported to date.
The aim of our work was (i) to develop an accurate, rapid and cost-effective diagnostic assay based on the TaqMan technology for the high-throughput detection of 187C→G, 193A→T and 845G→A mutations in the HFE gene with validation on a small group of HH patients and (ii) to determine the frequencies of HFE mutations in the healthy population in Slovenia and to compare them with some other European populations, especially those of Slavic origin. The method described in this paper is now available for routine diagnostic and screening procedures for HH, opening new possibilities in preventive medicine and possibly in screening for potential new blood donors.
Methods
Patients and control subjects
Voluntary, unpaid, unrelated whole blood donors who attended blood donor sessions in 11 geographic regions of the Republic of Slovenia from May 2002 to January 2003 were randomly selected for the population study. Blood samples were obtained from 1282 blood donors, 934 male and 348 female, aged between 18 and 64 years (40.4 ± 10.0 years for male and 39.7 ± 9.6 years for female). In addition, 21 patients, 20 men and 1 woman, with clinical and biochemical characteristics of HH who underwent therapeutic phlebotomy were included in the study. The mean age was 53 years for male patients (25 to 73 years) and 36 for female patient. In all patients the diagnosis of HH was confirmed by quantitative phlebotomy with removal of more than 4 grams of iron. The study was approved by the National medical ethics committee number 66/05/2002 and informed consent was obtained from all volunteers.
Genomic DNA isolation
Genomic DNA was isolated from 300 μL of buffy coat using QIAamp Blood kit (Qiagen) according to the manufacturer's instructions (Qiagen).
Real-time PCR
Primers and TaqMan® MGB probes were designed using Primer Express v2.0 software (Applied Biosystem) based on the published sequence of the HFE gene (GeneBank ID NM000410). We carefully designed the probes for codons H63D and S65C (SNPs being only six nucleotides apart) so that they do not overlap. PCRs for each SNP were performed in a single reaction tube for wild type and mutant allele simultaneously on thermostable 96-well plate in ABI PRISM 7900HT Sequence Detection System (Applied Biosystems). A 20 μL reaction consisted of TaqMan Universal PCR Master Mix with the passive reference ROX (Perkin Elmer), 50 ng of genomic DNA, 300 nM of each primers 5'-TTGGGCTACGTGGATGACC-3' and 5'-TCTGGCTTGAAATTCTACTGGAAA-3' for mutation H63D and S65C or 5'-GAACCTAAAGACGTATTGCCAA-3' and 5'-AGATCACAATGAGGGGCTGATC-3' for mutation C282Y and a corresponding pair of TaqMan MGB probes: 75 nM of each 5'-FAM-CTCATCATCATAGAACAC-NFQ-3' (mutated) and 5'-VIC-CTCATGATCATAGAACAC-NFQ-3' (wild-type) for H63D, 70 nM 5'-VIC-ACGGCGACACTCA-NFQ-3' (mutated) and 90 nM 5'-FAM-CGGCGACTCTCA-NFQ-3' (wild-type) for S65C or 45 nM 5'-VIC-CCTGGTACGTATATCT-NFQ-3' (mutated) and 55 nM 5'-FAM-CTGGCACGTATATCT-NFQ-3' (wild-type) for C282Y allele detection. PCR conditions were 2 min at 50°C, 10 min at 95°C, followed by 40 cycles of 15 sec at 95°C and 1 min at 60°C carried out by the ABI PRISM 7900HT Sequence Detection System (Applied Biosystem). Allele discrimination was accomplished by running end point detection using ABI PRISM 7900HT and SDS 2.0 software. In addition, all results were confirmed by visual inspection of the real-time PCR multicomponent analysis plots.
RFLP analysis
Exons 2 and 4 of HFE gene were separately amplified by PCR prior to the restriction analysis and sequencing in a 50 μL reactions consisted of 200 nM of each primer 5'-TGTGGAGCCTCAACATCCT-3 and 5'-TGAAAAGCTCTGACAACCTCA-3' for exon 2 or 5'-TCCAGTCTTCCTGGCAA-3' and 5'-TTCTAGCTCCTGGCTCTCA-3' for exon 4, 10× PCR buffer (Perkin Elmer), 200 μM each dNTP (Perkin Elmer), 1.25 mM MgCl2 (Perkin Elmer), 3 U Taq DNA polymerase (Perkin Elmer) and 200 ng genomic DNA. The thermal program consisted of 30 cycles with 20 sec at 94°C, 30 sec at 56°C and 1 min at 72°C. After PCR amplification, restriction digests were performed directly with the 25 μL of PCR mixtures by the addition of 5U BclI (codon 63), HinfI (codon 65) or SnaBI (codon 282) and corresponding buffers and incubated for 2 h at 50° for BclI restriction or at 37°C for HinfI and SnaBI restriction. The products were resolved on a 3% agarose gel. Genotypes of HH patients were also confirmed by DNA sequencing (Macrogen Inc., Seoul, Korea).
Statistical analysis
The results are expressed as means ± SD. Allele frequencies are presented as % with 95% confidence interval (95% CI) calculated by the Wilson procedure with a correction for continuity. Fisher's exact test or χ2 test with Yates correction was used to compare the prevalence of HFE genotypes among different groups by age and gender and to compare allelic frequencies among different European populations. The fit to the Hardy-Weinberg (H-W) equlibrium was tested by means of the χ2 test. Data analysis was carried out using the statistical package SigmaStat 3.1 (Systat software Inc., San Jose, CA).
Results
The improved TaqMan MGB probes simultaneously and accurately discriminate 187C/G, 193A/T and 845G/A positions in the HFEgene
The universal cycling program of the real-time PCR was performed at the same temperature conditions for all probes designed in the study. The genotyping results obtained by the real-time PCR analysis using the TaqMan MGB probes are graphically presented for the case of S65C mutation detection in Figure
1
. The fluorescence of only one of the two probes in the reaction mixture increased exponentially in the case of the homozygous genotype, either wild-type or mutant (Fig.
1A
, upper panel represents 193A homozygous genotype), whereas a comparable and simultaneous increase in fluorescence of both probes at similar C
T
values was observed in the case of the heterozygous genotype (Fig.
1A
, second panel represents 193A/T heterozygous genotype). The reliability of the codon 65 genotyping using HFE193A and HFE193T probes in the presence of the polymorphisms at both positions, 187 and 193, is shown in the case of the H63D/S65C combined heterozygote. As shown in Fig.
1A
, third panel, the SNP at position 193 was successfully and accurately identified without any interfering effects from the SNP at position 187, which was not true for the probe that covers both polymorphic positions at the same time (data not shown). The scattered diagram showing only relative end-point fluorescence intensities of both TaqMan MGB probes for allelic discrimination of the
HFE
codon 65, is shown in Figure
1B
. Clustering of wild type homozygous and heterozygous samples within the 96-well plate was unambiguously evident from the end-point fluorescence measurements, which makes allelic discrimination even more routine and faster.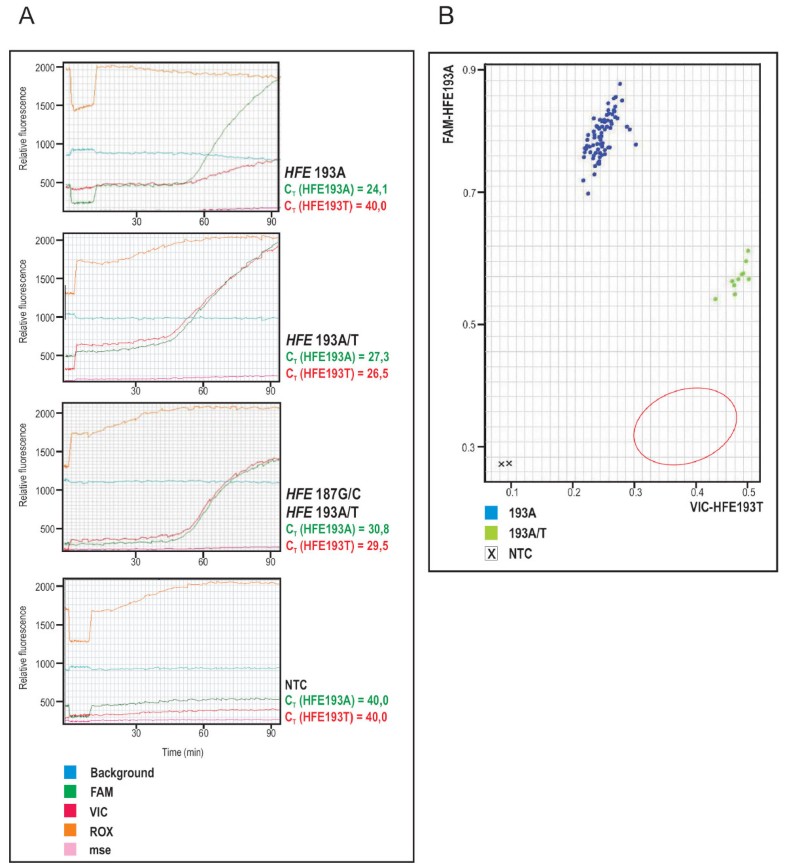 Validation of the real-time PCR assay by the RFLP analysis and DNA sequencing
Altogether, 21 HH patients were included for validation of the real-time PCR. Only 10 of them (48%) were found to be homozygous for C282Y mutation. Two patients were homozygotes for H63D mutation. All the others were of the heterogeneous genotypes: one patient was C282Y heterozygote and two were H63D heterozygotes. Among combined heterozygotes, two were H63D/C282Y and two were H63D/S65C. Two HH patients (10%) lacked any of the three mutations studied here. Positive results were further confirmed by the RFLP analysis and DNA sequencing. No discrepancies were observed between the genotypes obtained by any of three methods. Besides the confirmation of the three mutations in samples by two independent methods, we have gained standards for future testing.
Frequencies of the HFEgene mutation – H63D, S65C and C282Y – in Slovenian blood donors
Genotype frequencies were analyzed in the population of Slovenian blood donors (Table
1
). Among 1282 blood donors tested, 30 (2.3%) were H63D homozygotes and 268 (20.9%) were H63D heterozygotes. Two (0.16%) homozygotes and 89 (6.9%) heterozygotes for C282Y mutation were found (Table
1
). 47 samples (3.7%) were S65C heterozygotes and no sample was identified as S65C homozygote. Two, six and three samples were H63D/S65C, H63D/C282Y and S65C/C282Y compound heterozygotes, respectively. The calculated H63D, S65C and C282Y allele frequencies were 12.8% (95% confidence interval (CI) 11.5 – 14.2%), 1.8% (95% CI 1.4 – 2.5%) and 3.6% (95% CI 3.0 – 4.5%), respectively (Table
2
). There were no significant deviations from the H-W equilibrium in the blood donor population sample and no difference in genotype frequency among blood donor groups differing in gender or age.
Table 1
Genotype frequencies of H63D, S65C and C282Y mutations in HFE gene in Slovenian blood donors.
Genotype

Frequency

H63D

S65C

C282Y

n

% (95% CI)

-/-

-/-

-/-

857

66.8 (64.2–69.4)

+/-

-/-

-/-

260

20.3 (18.1–22.6)

-/-

-/-

+/-

80

6.2 (5.0–7.7)

-/-

-/+

-/-

42

3.3 (2.4–4.5)

+/+

-/-

-/-

30

2.3 (1.6–3.4)

-/-

-/-

+/+

2

0.16 (0.03–0.63)

-/-

+/+

-/-

0

-

+/-

-/-

+/-

6

0.47 (0.19–1.07)

+/-

+/-

-/-

2

0.16 (0.03–0.63)

-/-

+/-

+/-

3

0.23 (0.06–0.74)

Total

1282
Table 2
Allele frequencies of H63D, S65C and C282Y mutation in the HFE gene in Slovenian blood donors.
| HFE alleles | Allele frequency % (95% CI) |
| --- | --- |
| H63D | 12.8 (11.5 – 14.2) |
| S65C | 1.8 (1.4 – 2.5) |
| C282Y | 3.6 (3.0 – 4.5) |
Comparison of allele frequencies between different Slovenian regions revealed a significantly higher value for H63D allele in Koroška (region 9) in the northeastern part of Slovenia (21.3 % vs average 12.8 %; p = 0.005). Other two alleles were more evenly distributed throughout Slovenia (Figure
2
).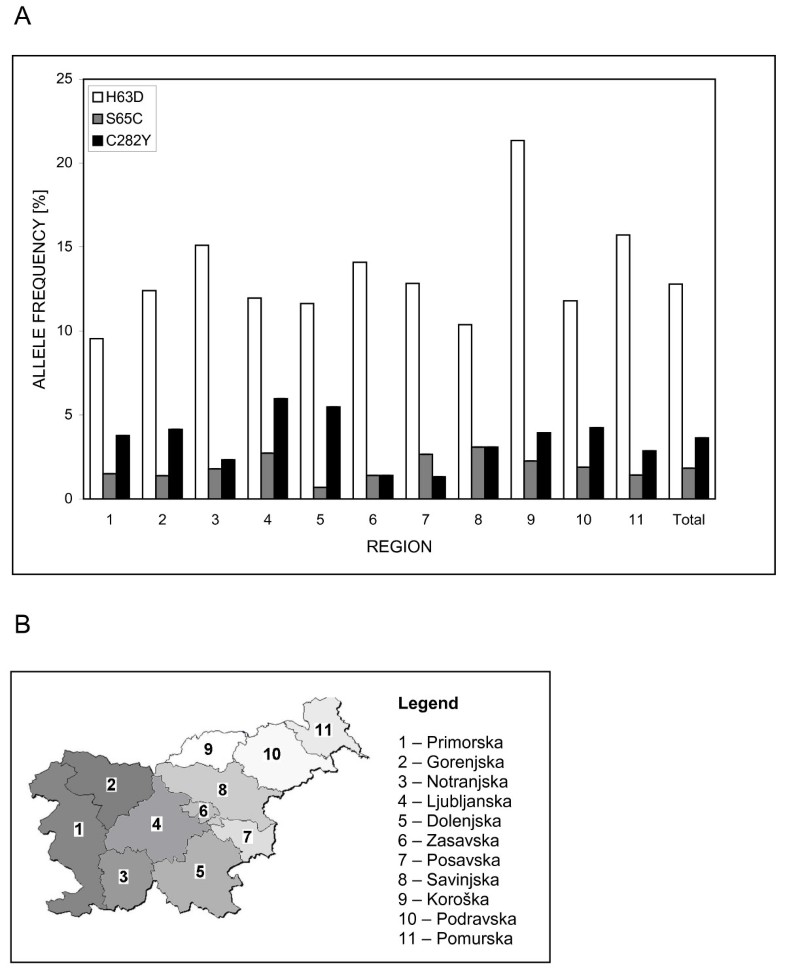 Conclusion
In conclusion, an improved TaqMan high-throughput validated assay, described in this paper is ready for wider screening application. The observed genotype frequency for H63D, S65C and C282Y mutations in the Slovenian population agrees with those reported for the Central European populations, although some deviations were observed in comparison with populations of Slavic origin. A revision of restrictions by the national guidelines on blood donation from otherwise healthy HH patients should be done before the implementation of population screening for HH in order to promote more blood donors necessary to mantain adequate blood supply.
Declarations
Acknowledgements
This work was supported in part by a research grant P4-0176 from the Slovenian Research Agency and by an internal research project of the Blood Transfusion Centre of Slovenia. The authors gratefully acknowledge Ljubiša Lukić for his support, valuable advice and critical discusion; Maja Černilec and Simon Koren for technical assistance in genotyping; Snežna Levičnik-Stezinar for assistance in sample collection; Andrej Košir for advice in statistical analysis. We also thank hemochromatosis patients and blood donor volunteers who made this study possible.
Authors' Affiliations
(1)
Blood Transfusion Centre of Slovenia, Ljubljana, Slovenia
(2)
Institute of Biochemistry, University of Ljubljana, Medical Faculty, Ljubljana, Slovenia
Copyright
© Cukjati et al; licensee BioMed Central Ltd. 2007
This article is published under license to BioMed Central Ltd. This is an Open Access article distributed under the terms of the Creative Commons Attribution License (http://creativecommons.org/licenses/by/2.0), which permits unrestricted use, distribution, and reproduction in any medium, provided the original work is properly cited.