Research article
Open Access
Open Peer Review
This article has Open Peer Review reports available.
Genome-wide linkage and exome analyses identify variants of HMCN1for splenic epidermoid cyst
BMC Medical Genetics
2014
15:115
Received: 9 April 2014
Accepted: 3 October 2014
Published: 23 October 2014
Abstract
Background
Splenic epidermoid cyst is a benign tumor-like lesion affecting the spleen and sometimes occurs in familial form. The causality of such rare diseases remain challenging, however recently, with the emergence of exome re-sequencing, the genetics of many diseases have been unveiled. In the present study, we performed a combinatorial approach of genome-wide parametric linkage and exome analyses for a moderate-sized Japanese family with frequent occurrence of splenic epidermoid cyst to identify the genetic causality of the disease.
Methods
Twelve individuals from the family were subject to SNP typing and exome re-sequencing was done for 8 family members and 4 unrelated patients from Kosovo. Linkage was estimated using multi-point parametric linkage analysis assuming a dominant mode of inheritance. All of the candidate variants from exome analysis were confirmed by direct sequencing.
Results
The parametric linkage analysis suggested two loci on 1q and 14q with a maximal LOD score of 2.5 . Exome generated variants were prioritized based on; impact on the protein coding sequence, novelty or rareness in public databases, and position within the linkage loci. This approach identified three variants; variants of HMCN1 and CNTN2 on 1q and a variant of DDHD1 on 14q. The variant of HMCN1 (p.R5205H) showed the best co-segregation in the family after validation with Sanger sequencing. Additionally, rare missense variants (p.A4704V, p.T5004I, and p.H5244Q) were detected in three unrelated Kosovo patients. The identified variants of HMCN1 are on conserved domains, particularly the two variants on calcium-binding epidermal growth factor domain.
Conclusions
The present study, by combining linkage and exome analyses, identified HMCN1 as a genetic causality of splenic epidermoid cyst. Understanding the biology of the disease is a key step toward developing innovative approaches of intervention.
Keywords
Exome re-sequencingSplenic epidermoid cystHMCN1Linkage analysis
Background
Mendelian disorders are classically analyzed by linkage analysis to determine genetic loci and subsequently positional cloning to identify the causal variants. With the advent of deep sequencing technologies, re-sequencing of entire human genome could become a powerful tool to identify variants underlying monogenic and probably common disorders. Although protein-coding regions constitute approximately 1% of the human genome, 85% of the variants with substantial effects on disease-related traits locate on those regions [1]. Accordingly, exome re-sequencing has increasingly been used as an efficient way to identify genetic causes of diseases [2],[3]. However, exome re-sequencing alone would still leave a considerable number of candidate variants. In the current study, we performed exome re-sequencing, in samples from a Japanese family and 4 unrelated Kosovar having splenic epidermoid cyst, in combination with genome-wide parametric linkage analysis as filtering procedure, to identify the genetic causality [4].
Splenic epidermoid cyst is a very rare benign tumor-like lesion filled with fluid or semi-fluid material (Figure
1
). It occurs mostly at the 2
nd
or 3
rd
decade of life with a female dominance [
5
]. Most cases are asymptomatic and the clinical symptoms are dependent on the size of the cyst. Cysts larger than 5 cm, as well as symptomatic and complicated cysts that may cause hemorrhage, rupture, or infection, should be surgically treated [
6
],[
7
]. While cysts are usually singular, multiple cysts have been observed especially in familial cases. Splenic cysts are much less common than those arising in kidney, liver, or ovary [
8
], and the molecular etiology of this condition is mostly unknown. A possible etiology of the cyst formation is attributed to developmental stages when misplacement of epithelial tissue occurs and also to metaplasia [
9
], however, the developmental origin of the epidermoid cysts of the spleen is unclear. Thus far, several affected parent-child and sibs have been reported [
9
]-[
14
], suggesting that genetic factors are possibly involved in predisposition to the disease. In the current study, in order to decipher the genetic factor, we recruited a Japanese family with frequent occurrences of splenic epidermoid cyst and performed genome-wide linkage analysis and exome capture followed by massive parallel sequencing. A series of filtering steps identified three candidate genes and then patients recruited in Kosovo were used for replication to finally identify a single candidate gene.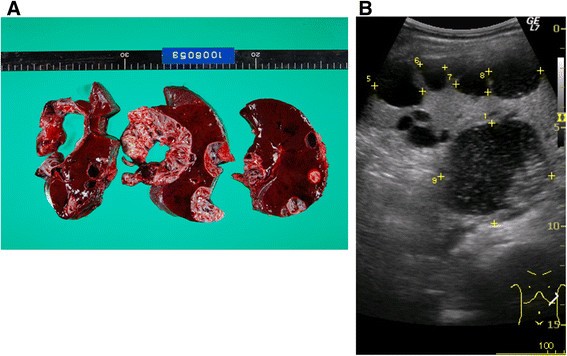 Discussion
Splenic epidermoid cyst is a very rare disease and we recruited a three-generation Japanese family comprising six patients. In the study, we first performed genome-wide parametric linkage analysis to narrow down the candidates loci. We then performed exome re-sequencing for eight individuals from the family in addition to four unrelated affected individuals from Kosovo. Based on stringent filtering steps on the exome data, in combination with linkage results, three variants of CNTN2, HMCN1, and DDHD1 were initially identified in the family. Because we could not pinpoint to one gene, it was necessary to find additional evidence supporting their possible role in the disease. We considered if any of the Kosovo unrelated samples has a novel or rare variant in the same gene that would prioritize the gene as candidate. Interestingly, we found rare missense variants in only HMCN1 in both the affected Japanese and three Kosovo cases.
HMCN1 (also known as Fibulin 6) is a large extracellular member of the immunoglobulin superfamily and it contains around 5,635 amino acids (600 kD) [29] [UniProtKB:Q96RW7]. This protein belongs to a family known as fibulins, a group of related proteins involved in many cellular processes such as cell adhesion, migration, and proliferation [30]. Expression of HMCN1 mRNA in the human spleen is relatively higher than other organs [31], and HMCN1 protein was detectable in the pericellular extracellular matrix of mouse epithelial cells in many tissues [32]. Function of human HMCN1 is still not well investigated, however a similar protein in C. elegans forms fine tracks that are mainly involved in stabilizing and organizing extracellular matrix of the epidermis [29]. Variants of HMCN1 have been reported to associate with age-related macular degeneration, a phenotype that is characterized by extracellular deposits of proteins and lipids in the eye [33]. Studies from zebrafish also revealed that variants of Hmcn1 caused a phenotype named fin blistering [34], which is a fluid-filled structure encompassed by a layer of epithelial cells. Considering that splenic epidermoid cyst has a structure filled with fluids and lined by a layer of epithelial cells, these phenotypic similarities with the previous observations would support the possible involvement of HMCN1 in the etiology of splenic epidermoid cyst.
The molecular mechanism by which HMCN1 is likely involved in splenic epidermoid cyst still remains unknown. However, one scenario that might explain the implication of HMCN1 is related to its function as an extracellular matrix protein. As noted previously, one of the hypotheses of splenic cyst formation is that a misplacement of epithelial cells during developmental stages. Bearing that in mind, it is possible that such misplacement could be due to instability of HMCN1 structure caused by the variants of the gene. Another interesting idea is that the domain cb-EGF, which is mutated in our study subjects, requires Ca2+ ion for orienting the neighboring domains and inducing protein conformations required for biological activities [35]. Interestingly, Ca2+ ion homoeostasis is known to be a major factor in cyst formation in polycystic kidney diseases [36].
Our study has a limitation related to the number of subjects involved; because it includes only one family with the disease, which is basically due to the rarity of the disease. However, we believe that is compensated by the detection of variants on the same gene from a completely different population such as Kosovo population. Further supporting evidences are warranted to support our hypothesis. Firstly, more splenic cyst patients need to be screened for variants in HMCN1. Secondly, functional impact of HMCN1 variants on epidermoid transformation and splenic cyst formation needs to be experimentally shown. For example, localization of HMCN1 protein in the cyst's samples would be shown with immunohistochemical method. One more example is using a forward genetic approach to knock out Hmcn1 from mouse and if such experiment showed a phenotype similar to splenic cyst, this will clearly enforce the hypothesis of HMCN1 involvement in splenic epidermoid cyst etiology.
Conclusions
In the current study, taking the advantage of linkage and exome analyses, we demonstrated that variants of HMCN1 are strong candidates for the causality of splenic epidermoid cyst. To our knowledge, this is the first study to investigate the genetics of splenic epidermoid cyst identifying HMCN1 as the causal gene.
Declarations
Acknowledgments
We are grateful to all of those who participated in the study, by giving their samples, from Japan and Kosovo. We would also like to express our deepest appreciation to Ms. Hiromi Kamura and Ms. Yuko Okudaira (Tokai University) for their technical helps, and Mr. Hideki Hayashi, and Mr. Masayuki Tanaka, at the Teaching and Research Support Center, Research and Development Division, Isehara, Tokai University, for their expertise in laboratory and in silico works. Critical reading and comments of Drs. Hirofumi Nakaoka and Takahide Hayano (NIG) were highly valuable to improve the manuscript.
Authors' Affiliations
(1)
Division of Human Genetics, National Institute of Genetics, The Graduate University for Advanced Studies (SOKENDAI), Mishima, Japan
(2)
Department of Molecular Life Sciences, Basic Medical Science and Molecular Medicine, Tokai University School of Medicine, Isehara, Japan
(3)
Faculty of Pharma-Sciences, Teikyo University, Itabashi-ku, Japan
(4)
Department of Abdominal Surgery, University Clinical Center of Kosovo, Prishtina
(5)
Health Insurance Hitoyoshi General Hospital, Hitoyoshi, Japan
(6)
StaGen Co., Ltd., Taito-ku, Japan
Copyright
© Omer et al.; licensee BioMed Central Ltd. 2014
This article is published under license to BioMed Central Ltd. This is an Open Access article distributed under the terms of the Creative Commons Attribution License (http://creativecommons.org/licenses/by/4.0), which permits unrestricted use, distribution, and reproduction in any medium, provided the original work is properly credited. The Creative Commons Public Domain Dedication waiver (http://creativecommons.org/publicdomain/zero/1.0/) applies to the data made available in this article, unless otherwise stated.