Research article

Open Access

Open Peer Review
This article has Open Peer Review reports available.
Novel mutation in the CHST6 gene causes macular corneal dystrophy in a black South African family
BMC Medical Genetics
BMC series – open, inclusive and trusted
2016
17:47
Received: 6 August 2015
Accepted: 23 June 2016
Published: 20 July 2016
Abstract
Background
Macular corneal dystrophy (MCD) is a rare autosomal recessive disorder that is characterized by progressive corneal opacity that starts in early childhood and ultimately progresses to blindness in early adulthood. The aim of this study was to identify the cause of MCD in a black South African family with two affected sisters.
Methods
A multigenerational South African Sotho-speaking family with type I MCD was studied using whole exome sequencing. Variant filtering to identify the MCD-causal mutation included the disease inheritance pattern, variant minor allele frequency and potential functional impact.
Results
Ophthalmologic evaluation of the cases revealed a typical MCD phenotype and none of the other family members were affected. An average of 127 713 variants per individual was identified following exome sequencing and approximately 1.2 % were not present in any of the investigated public databases. Variant filtering identified a homozygous E71Q mutation in CHST6, a known MCD-causing gene encoding corneal N-acetyl glucosamine-6-O-sulfotransferase. This E71Q mutation results in a non-conservative amino acid change in a highly conserved functional domain of the human CHST6 that is essential for enzyme activity.
Conclusion
We identified a novel E71Q mutation in CHST6 as the MCD-causal mutation in a black South African family with type I MCD. This is the first description of MCD in a black Sub-Saharan African family and therefore contributes valuable insights into the genetic aetiology of this disease, while improving genetic counselling for this and potentially other MCD families.
Keywords
Macular corneal dystrophy
CHST6
Whole exome sequencing
African
Background
Macular corneal dystrophy (MCD) (OMIM #217800) is a rare autosomal recessive disorder that is characterized clinically by irregularly shaped superficial opacities that progressively extend through the corneal stroma [1, 2]. Onset typically occurs in the first decade of life and progresses to severe bilateral visual impairment in adulthood, which ultimately necessitates keratoplasty [3]. MCD has been identified in a number of populations across the world [4–11], but it has not yet been reported in Sub-Saharan Africa.
Mutations in the carbohydrate sulfotransferase 6 gene (CHST6) were identified as the cause for MCD in 2000 [12]. CHST6 encodes corneal N-acetyl glucosamine-6-O-sulfotransferase (C-GlcNAc6ST), an enzyme which catalyses the sulfation of GlcNAc residues in the main glycosaminoglycan in the cornea, keratan sulfate, to generate sulfated keratan sulfate (KS). The defective sulfation of keratan sulfate that is caused by a deficiency in this enzyme leads to malformations in fibril organization in the cornea, which results in progressive corneal opacification in MCD patients [13–15].
MCD can be divided into two immunophenotypes based on the reactivity of the patient's serum and corneal tissue to an antibody against KS. Antigenic KS reactivity is very low (or undetectable) in the serum and absent in corneal tissue in MCD type I patients, whereas normal to sub-normal KS levels are detectable in the serum and corneal stroma of type II MCD patients [16]. In situ hybridization analysis did not detect CHST6 transcripts in corneal epithelium of an MCD type II patient, suggesting that the mutations found in type II lead to a loss of cornea-specific expression of CHST6 [12]. These two subtypes are, however, clinically indistinguishable.
Patients with type I MCD usually harbour missense mutations and indels in the coding region of CHST6, which leads to the functional inactivation of the enzyme [12, 17], whereas deletions and/or rearrangements in the region between CHST6 and the neighbouring CHST5 have been reported in patients with MCD type II [1, 12]. This region likely harbours a gene regulatory element that affects the cell-specific transcription of CHST6 [12].
However, some studies failed to find potentially causative mutations in the coding region, upstream regulatory region or splice site mutations of CHST6 in MCD patients [1, 5, 6, 9, 18, 19]. Current theories to explain this include pathogenic mutations in an unknown regulatory promoter immediately upstream of CHST6 or cis-acting distant regulatory elements [1, 20], while genetic heterogeneity has not yet been excluded [1].
In the present study, which is the first description of MCD in a sub-Saharan African family, we used whole exome sequencing to identify the MCD-causal mutation in a consanguineous black South African family.
Methods
MCD Family
Two sisters presented with a complaint of decreased vision in 2007 to the Eye Clinic of the Charlotte Maxeke Johannesburg Academic Hospital in Johannesburg, South Africa. They were diagnosed with MCD based upon the distinctive clinical features, which were later confirmed by histopathologic examination following penetrating keratoplasty. We invited the entire family for an ophthalmic examination and seven additional family members consented to participate in this study. The pedigree was consistent with an autosomal recessive inheritance pattern and showed evidence of consanguinity (Fig.
1
).

The study was approved by the Human Research Ethics Committee (Medical) of the University of the Witwatersrand, South Africa (protocol number M131125), and followed the tenets of the Declaration of Helsinki. Written informed consent was obtained from all participating family members for participation in this study and the use of their DNA and clinical data for research purposes after a genetic counsellor explained the nature and possible consequences of the study to them.
Complete ophthalmic examination of each participating family member was performed. Phenotyping included a slit-lamp examination, anterior segment photography and OCULUS Pentacam® examination.
Whole exome sequencing, assembly and variant calling
Targeted exome capture was performed by preparing sequencing libraries from genomic DNA using the NuGEN Ovation Ultralow DR Multiplex protocol followed by a SureSelectXT Human All Exon V5 + UTRs (70 MB) target enrichment (Agilent, Basel, Switzerland). Captured libraries were sequenced on the Illumina HiSeq 2500 with 76-bp paired-end reads. Reads were mapped to the human hg19 genome assembly using the Burrows-Wheeler Aligner (BWA) [21] and GATK base quality score recalibration, indel realignment, and duplicate removal was applied according to GATK Best Practises guidelines [22]. Variants were called with the GATK Unified Genotyper [23] and annotated with the Ensembl Variant Effect Predictor [24]. Variants with a VQSLOD score below 2 and/or a base coverage below 5x were considered low quality calls and consequently not included in the analysis.
Variant filtering to identify putative MCD-causal variant(s)
Using a tiered filtering strategy, we first explored variants that followed a simple autosomal recessive inheritance pattern (both affected sisters should be homozygous for the variant allele, carrier mother should be heterozygous and unaffected siblings and children can be either homozygous for the reference allele or heterozygous) (Fig.
2
). We only considered novel variants and variants with a minor allele frequency (MAF) of less than 1 % in the 1000 Genomes Project (1kGP) [
25
] and NHLBI GO Exome Sequencing Project (ESP6500) databases, because developmental eye disorders, and MCD in particular, are considered very rare [
26
,
27
].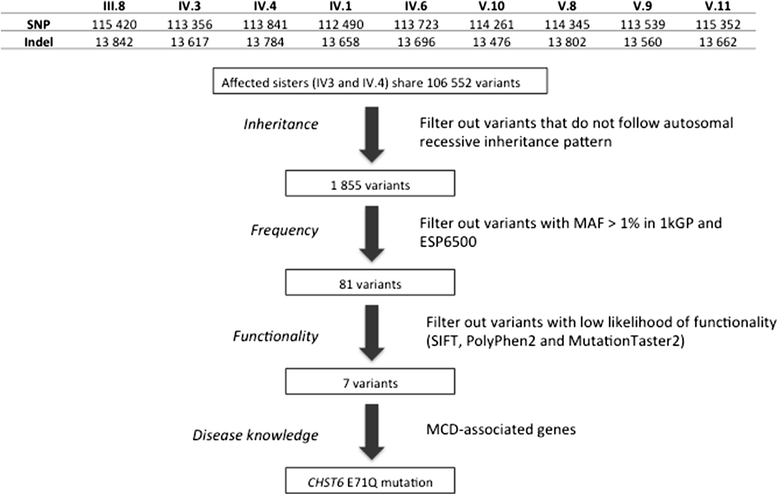 Non-coding or synonymous variants were excluded and the variants that remained following the filtering process were evaluated for possible functional impact using SIFT [28], PolyPhen-2 [29] and MutationTaster2 [30]. A database search of the genes containing potential MCD causal mutations was done using PubMed, Online Mendelian Inheritance in Man (OMIM) and the Human Gene Mutation Database (HGMD) Professional 2014.2 [31]. This filtering strategy was then repeated with compound heterozygous mutations that followed an autosomal recessive inheritance pattern in the family.
Validation and segregation analysis
Sanger sequencing was performed in each of the participating family members to confirm the segregation of the putative MCD-causal variant in the family. A fragment spanning the location of the CHST6 E71Q mutation was obtained by PCR amplification using sense 5′-AGGTCCAGATCCGTGGGTG-3′ and antisense 5′-CTTTCTGGTTTCCCGGCCA-3′ primers. These primers were then used to sequence the amplicons with the BigDye® Terminator v3.1 Cycle Sequencing chemistry (Thermo Fisher Scientific; Reinach, Switzerland). The purified fragment population was then loaded on a 3730XL Genetic Analyzer for the final capillary electrophoresis step.
Microscopy
Cross-sections of the corneal buttons excised during penetrating keratoplasty were stained with haematoxylin and eosin (HE). In addition, the following histochemical stains were performed: Alcian blue, Hale's colloidal iron, Masson's trichrome, Periodic acid-Schiff (PAS) and Congo red.
Discussion
We report on a consanguineous black South African family with type I MCD, which is caused by a novel E71Q mutation in CHST6. It is the first report of MCD in a Sub-Saharan African family, although it is not the first report of MCD in an individual with African ancestry as Patel et al. previously identified a novel mutation in CHST6, which is associated with MCD type II in an African American [40].
The CHST6 gene encodes the C-GlcNAc6ST enzyme, which is responsible for generating KS in the cornea. Improper functioning of this enzyme leads to malformations in fibril organization in the cornea, which manifests as the characteristic superficial opacities seen in MCD patients [13–15]. However, some studies failed to identify mutations in the CHST6/CHST5 region in MCD patients [1, 5, 6, 9, 18, 19]. We used a whole exome sequencing approach to investigate the cause of MCD in this South African family, because we did not have sufficient African data to inform on whether a candidate gene approach would be successful in this case.
We identified a homozygous E71Q mutation in the two affected sisters that falls within the CHST6 functional domain, which segregated with MCD in the family. El-Ashry et al. previously identified a G905T transversion that results in another amino acid change at the same position (E71D) in a British family with MCD. However, this mutation was not considered deleterious as it leads to a conservative amino acid change and was inherited in tandem with a P72S non-conservative amino acid substitution and the authors concluded that P72S, rather than the E71D mutation, was the causal mutation in this family [41].
The E71Q mutation identified here results in a change from a negatively charged glutamic acid to the polar uncharged glutamine at a residue that is highly conserved among human sulfotransferases [1, 5]. It is, furthermore, not present in the 1kGP, ESP6500, dbSNP, ClinVar or HGMD databases and three programs for analysing protein functions, Polyphen2, SIFT and MutationTaster2, predicted that the E71Q mutation is probably damaging, deleterious and disease causing, respectively. Taken together, this suggests a very high likelihood that this mutation would have a deleterious effect on the C-GlcNAc6ST enzyme.
We identified two additional variants of unknown clinical relevance that segregated with MCD in our family: a g.1501249C > G splice site mutation in CSMD1 and a S564C missense muation in RP1L1. The CSMD1 mutation is predicted to be disease causing by MutationTaster2. Aberrant splicing in CSMD1 has been associated with cancer susceptibility [42], while some studies report association between CSMD1 mutations and phenotypic variance in neuropsychological disorders [37–39], but it has no documented effect on any ocular phenotype. In silico predictions of functionality of splicing variants are, furthermore, more vulnerable to false positive predictions than similar predictors for missense variants [43]. The CSMD1 splice variant identified here is therefore not the most likely driver of the MCD phenotype in this family.
It is possible to speculate that the RP1L1 S564C mutation might somehow have an effect on the clinical phenotype in these MCD patients due to RP1L1's association with two retinal disorders, occult macular dystrophy and retinitis pigmentosa. However, we found that this gene is not expressed in the human cornea, making it unlikely to have an impact on the corneal phenotype of this family. We did confirm that this gene is expressed in the human retina, but fundus examination of both individuals post penetrating keratoplasty was normal and the post-operative visual acuities were appropriate for the degree of astigmatism and did not suggest retinal disease. The S564C mutation is also observed twice in a homozygous state in the 1kGP data. Taken together, this suggests that the S564C mutation is unlikely to cause a severe ocular phenotype in this family.
A large number of in silico functional predictors are available at present, all of which aim to address the difficult task of prioritizing variants in disease gene identification studies based on different types of data, often yielding different results [44]. However, all of these predictors report an error rate and the studies that aim to evaluate these predictors are slightly flawed due to the overlap in the training and test data sets, which may yield overly optimistic results [45]. It is therefore important to note that in silico functional predictors serve as a context within which to interpret sequencing results and that multiple lines of evidence are needed to infer pathogenicity.
African populations contributed the largest number of variants and with the highest fraction of novel variants in the 1kGP [25]. This reflects the great genetic diversity in populations with African ancestry, which has been demonstrated in a number of additional studies [46, 47]. We identified an average of 1569 novel variants per individual. An average of 11 100 of the identified variants were non-synonymous coding (missense) mutations and almost a third of these variants are novel, which is higher than the average recorded in the 1kGP [25].
It is often difficult to get an early, accurate diagnosis for patients with rare diseases, particularly in an overburdened public health care system. The identification of the MCD causal mutation is of great significance to this family as it provides valuable information on the risks to other family members and improves accurate genetic counselling. Fortunately all members of this family that were tested could be reassured that they did not have the same disorder as the two affected sisters. This was especially relevant to the younger family members. Tools for early diagnosis equip the family with the knowledge to seek timely, effective care for other family members with vision problems. Furthermore, our study contributes research into the genetic underpinnings of ocular disease phenotypes in African populations. Studies on African populations have a high probability of identifying novel disease genes due to their high degree of genetic diversity. Such studies additionally serve as a guide to determine where data generated on Caucasian populations might be transferable to Africans.
Conclusions
We have identified a novel E71Q mutation in CHST6 as the cause of MCD in this black South African family. This is the first clinical description of MCD in a Sub-Saharan African family as well as the first investigation into the genetic aetiology of MCD in a Sub-Saharan African population. This study therefore contributes towards genetic counselling for MCD patients of African descent.
Declarations
Acknowledgements
We would like to thank the family for their participation and cooperation. Research reported in this publication was supported by the Fogarty International Center of the National Institutes of Health under Award Number D43 TW008330. MR is a South African Research Chair in Genomics and Bioinformatics of African populations hosted by the University of the Witwatersrand, funded by the Department of Science and Technology and administered by National Research Foundation of South Africa (NRF). The content is solely the responsibility of the authors and does not necessarily represent the official views of the Fogarty International Centre, or the National Institutes of Health or the NRF. Genetic sequencing and analysis was performed during NC's participation in the Novartis and University of Basel Next Generation Scientist program, a 3-month research internship in Basel, Switzerland that aims to build scientific and leadership capability in emerging country scientists. In particular, we would like to thank Moritz Frei for the library preparation and exome sequencing; Anita Fernandez, Mariavittoria Iazeolla and Simone Popp for their technical assistance and Fan Yang and Bolan Linghu for their support and assistance with data analysis during this time. This research was further supported by a self-initiated research grant from the South African Medical Research Council (TC).
Availability of data and materials
Information relative to the interpretation of the data is available in Supplementary information. The exome sequencing data files are available on request from #Rsch-SBIMB@wits.ac.za or from the corresponding author.
Authors' contributions
NC, SW, SG, TC and MR wrote the manuscript. SW, SG and TC recruited and evaluated the family and assisted with the clinical interpretation of results. NC, MSC and CZ carried out the bioinformatic analysis. SB-M, MS, FS, NC, MR, DSR, AL, KP and PS conceived and designed experiments and assisted with the interpretation of results. All authors read and approved the final manuscript.
Competing interests
The authors declare that they have no competing interests.
Consent for publication
Written informed consent was obtained from all participating family members (or parents in the case of minors) for publication of this research and any accompanying clinical data and images after a genetic counsellor explained the nature and possible consequences of the study to them. A copy of the written consent is available for review by the Editor of this journal.
Open AccessThis article is distributed under the terms of the Creative Commons Attribution 4.0 International License (http://creativecommons.org/licenses/by/4.0/), which permits unrestricted use, distribution, and reproduction in any medium, provided you give appropriate credit to the original author(s) and the source, provide a link to the Creative Commons license, and indicate if changes were made. The Creative Commons Public Domain Dedication waiver (http://creativecommons.org/publicdomain/zero/1.0/) applies to the data made available in this article, unless otherwise stated.
Authors' Affiliations
(1)
Sydney Brenner Institute for Molecular Bioscience, University of the Witwatersrand, Johannesburg, South Africa
(2)
Division of Ophthalmology, Department of Neurosciences, University of the Witwatersrand, Johannesburg, South Africa
(3)
Biomarker Development, Novartis Institutes for BioMedical Research, Basel, Switzerland
(4)
Center for Proteomic Chemistry, Novartis Institutes for BioMedical Research, Basel, Switzerland
(5)
Division of Anatomical Pathology, National Health Laboratory Services and University of the Witwatersrand, Johannesburg, South Africa
(6)
Novartis Institutes for Biomedical Research, Cambridge, USA
(7)
Division of Human Genetics, National Health Laboratory Service and Faculty of Health Sciences, University of the Witwatersrand, Johannesburg, South Africa