Case report

Open Access

Open Peer Review
This article has Open Peer Review reports available.
Germline activating MTOR mutation arising through gonadal mosaicism in two brothers with megalencephaly and neurodevelopmental abnormalities
BMC Medical Genetics
2015
16:102
Received: 3 July 2015
Accepted: 3 October 2015
Published: 5 November 2015
Abstract
Background
In humans, Mammalian Target of Rapamycin (MTOR) encodes a 300 kDa serine/ threonine protein kinase that is ubiquitously expressed, particularly at high levels in brain. MTOR functions as an integrator of multiple cellular processes, and in so doing either directly or indirectly regulates the phosphorylation of at least 800 proteins. While somatic MTOR mutations have been recognized in tumors for many years, and more recently in hemimegalencephaly, germline MTOR mutations have rarely been described.
Case presentation
We report the successful application of family-trio Diagnostic Exome Sequencing (DES) to identify the underlying molecular etiology in two brothers with multiple neurological and developmental lesions, and for whom previous testing was non-diagnostic. The affected brothers, who were 6 and 23 years of age at the time of DES, presented symptoms including but not limited to mild Autism Spectrum Disorder (ASD), megalencephaly, gross motor skill delay, cryptorchidism and bilateral iris coloboma. Importantly, we determined that each affected brother harbored the MTOR missense alteration p.E1799K (c.5395G>A). This exact variant has been previously identified in multiple independent human somatic cancer samples and has been shown to result in increased MTOR activation. Further, recent independent reports describe two unrelated families in whom p.E1799K co-segregated with megalencephaly and intellectual disability (ID); in both cases, p.E1799K was shown to have originated due to germline mosaicism. In the case of the family reported herein, the absence of p.E1799K in genomic DNA extracted from the blood of either parent suggests that this alteration most likely arose due to gonadal mosaicism. Further, the p.E1799K variant exerts its effect by a gain-of-function (GOF), autosomal dominant mechanism.
Conclusion
Herein, we describe the use of DES to uncover an activating MTOR missense alteration of gonadal mosaic origin that is likely to be the causative mutation in two brothers who present multiple neurological and developmental abnormalities. Our report brings the total number of families who harbor MTOR p.E1799K in association with megalencephaly and ID to three. In each case, evidence suggests that p.E1799K arose in the affected individuals due to gonadal mosaicism. Thus, MTOR p.E1799K can now be classified as a pathogenic GOF mutation that causes megalencephaly and cognitive impairment in humans.
Keywords
Diagnostic exome sequencingFamily-trioMTORAutismASDMacrocephalyMegalencephalyGonadal mosaicismGain-of-functionMissense alteration
Background
Autism spectrum disorders (ASDs) are a group of neuro-developmental maladies marked by social/communication impairments, repetitive behaviors, and sensory reactivity issues [1]. Even though the molecular etiology of autism is genetically heterogeneous, up to 10 % of cases are associated with a distinct genetic condition such as Fragile X syndrome, tuberous sclerosis, phenylketonuria, or Rett syndrome [2–5]. Furthermore, 20 % of autistic patients exhibit macrocephaly [6]. In a number of these cases, germline mutations in the tumor suppressor gene PTEN (P hosphatase and Ten sin Homologue) have been revealed to be the underlying cause of disease [7–11]. It has been estimated that the rate of PTEN disruption is up to 5 % in ASD patients with macrocephaly [12].
PTEN functions as a negative regulator of the PI3K (Phosphoinositide 3-Kinase)–AKT (AKT/Protein Kinase B)-MTOR (Mammalian Target of Rapamycin) signaling cascade, a simplified version of which is depicted in Fig.
1
. At the center of this pathway lies MTOR, a 300 kDa serine/threonine protein kinase encoded by the
MTOR
gene, which in humans is situated on chromosome 1p36 [
13
]. By integrating upstream signals to downstream effector molecules like ribosomal P70 S6 (S6) and ribosomal P70 S6 kinase (S6K), the PI3K-AKT-MTOR axis serves to regulate a myriad of biological processes including cell growth and proliferation, apoptosis, protein synthesis, and transcription [
14
]. MTOR is known to mediate normal brain development by playing key roles in axonal and dendritic growth, and in the establishment and maintenance of synaptic plasticity [
15
].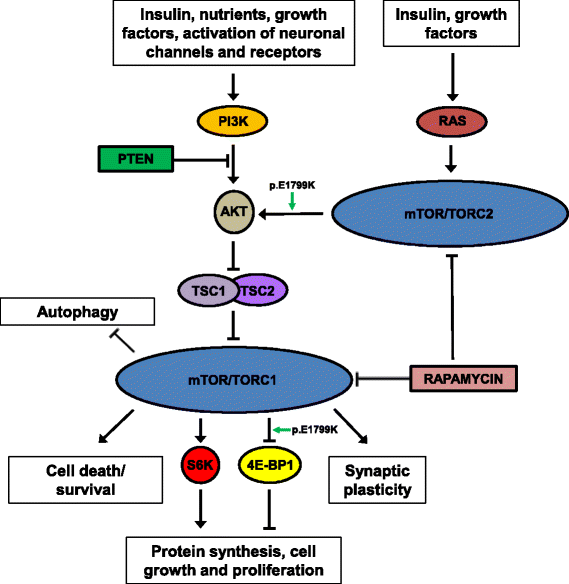 As evidenced by the association of PTEN dysfunction with ASD and macrocephaly, hyper-activation of the PI3K-AKT-MTOR signaling cascade is an underlying factor for neurological disease and abnormal development. Such 'TORopathies' include neurological ailments like focal cortical malformations (FCM), tuberous sclerosis complex (TSC), and hemimegalencephaly, all of which are highly associated with epilepsy [16, 17]. Furthermore, hyperactivation of the MTOR axis has also been associated with somatic cancer [18].
Although specific molecular lesions have been defined for some TORopathies--for example, in cases where PTEN is disrupted--in many instances it remains difficult to pinpoint the exact molecular defect due to the complexity of the MTOR signaling network [17]. Even so, the emergence of next generation sequencing (NGS) has greatly facilitated the search for genes and pathogenic variants that underlie neurological disease. Several recent reports have detailed the successful use of whole exome sequencing (WES) to uncover both somatic and germline activating alterations within MTOR itself. [19–23] These clinical studies describe damaging MTOR alleles in unrelated probands who present overlapping neurological symptoms and brain defects [19–23]. In a recent cancer study, Grabiner and colleagues accessed publicly available sequencing data from tumor samples to uncover 33 MTOR alterations that conferred hyperactivation of the MTOR signaling pathway within cancer cells. These alterations clustered around six distinct regions in the C-terminal half of the protein [18].
Herein, we present the clinical and genetic investigation of two brothers affected with macrocephaly and ASD. Diagnostic Exome Sequencing (DES) identified a GOF MTOR alteration, p.E1799K, to be the causative mutation in this family. Co-segregation and short tandem repeat (STR) analyses revealed that MTOR p.E1799K likely originated as a consequence of gonadal mosaicism.
Case presentation
Clinical description
Table
1
lists the major clinical features displayed by the proband and his brother, as well as the features of additional patients who harbor MTOR p.E1799K but who are unrelated to the family described herein. The proband, who presented to medical genetics clinic at age 3 with macrocephaly, bilateral iris colobomas and gross motor delay, had a mildly unusual appearance, which was primarily due to macrocephaly with a prominent forehead (Fig.
2a
, left panels). The proband was the product of an uncomplicated pregnancy and was large for his gestational age, with a weight of 2950 g (97 %) at 35 weeks; birth head circumference was not recorded. Since infancy, his linear growth and weight have been normal; however, macrocephaly was noted by 6 months, which prompted a head ultrasound. The result showed no evidence of hydrocephalus. Since 3 years of age, the proband's head growth has been tracking parallel to, and 6 standard deviations above the mean. Investigation by magnetic resonance imaging revealed megalencephaly. Bilateral iris colobomas with normal posterior poles were noted at birth, and the proband wears glasses for strabismus. During infancy, he displayed hyperinsulinemia, which was managed through frequent feedings and administration of diazoxide. He continues to display asthma, as well as persistent food allergies that manifest through gastrointestinal and cutaneous symptoms.
Table 1
Clinical Findings Associated with MTOR E1799Ka
Proband

Sibling

Baynam 1

Baynam 2

Baynam 3

Lgab

+

+

-

+

+

Postnatal height/weight

Normal

Normal

Normal

Normal

Unknown

Macrocephaly

+5SD

+5SD

>+3SD

>+3SD

>+3SD

MRI

Megalencephaly

Megalencephaly

Mild ventricular prominence

Megalencephaly

Unknown

Hypogenesis of corpus callosum

Perisylvian polymicrogyria,

Small pons & medulla

Hypogenesis of corpus callosum

Gray matter heterotopia

Intellectual disability

Mild disability/autism

Moderate disability/autism

Hyperactive/speech delay

Marked global delay

Marked global delay

Seizures

-

-

+

+

+

Eye

Iris coloboma

Iris coloboma

-

-

-

Noonan-like face

-

-

+

+

+

Small chest/large abdomen

-

-

+

+

+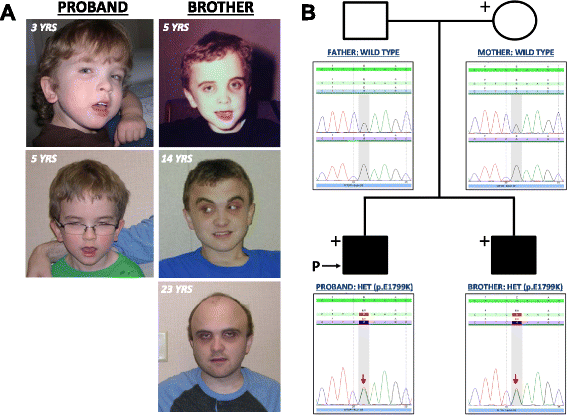 The proband required surgery for undescended testes and an inguinal hernia. He did not display any unusual skin pigmentation in the genital area. Further, he has never displayed seizures. Initially hypotonic with delayed gross motor milestones, the proband walked at 18 months but remained somewhat hypotonic. His early language milestones appeared normal, but he subsequently exhibited significant social delays that were interpreted as mild ASD. Testing at age 7 revealed that his overall cognitive ability rated in the mildly impaired range. Previous genetic testing, which included PTEN sequencing and chromosomal microarray analysis, did not reveal any molecular abnormalities.
The proband's older brother, who had previously displayed clinical features including macrocephaly, unilateral iris coloboma and autism, presented an unusual appearance, mainly due to severe macrocephaly, a prominent forehead, and deep set eyes surrounded by dark circles (Fig. 2a, right panels). The product of an uncomplicated pregnancy, the elder brother was born at 36 weeks and was large for his gestational age, with a weight of 3400 g (>97 %) and head circumference of 36 cm (>97 %). Although his subsequent linear growth and weight were normal, his macrocephaly nevertheless persisted. Since age 2, his head grew parallel to the norm but tracked 6 standard deviations above the mean, reaching an adult circumference of 65 cm. MRI scans revealed only megalencephaly. Although he is lactose intolerant and displays mild asthma, he does not display the severe allergies suffered by the proband. Unilateral iris coloboma was noted at birth and he has required several surgeries for strabismus; otherwise, his vision has been normal. In addition, he underwent surgery for undescended testes. The older brother has never had seizures; however, he was hypotonic and displayed significant delays in both speech and motor skills. Furthermore, repeated testing during childhood showed that he presented mild to moderate intellectual disability. His speech and social skills remained significantly below other developmental metrics, and as a teenager he was diagnosed with autism. Karyotype and Fragile–X test results were normal.
The brothers' parents, who are healthy and non-consanguineous, possess normal intelligence, regular head circumference, and normal eyes. The father is of Norwegian, German and Bohemian descent, while the mother is of mixed European and Japanese ancestry. It should be noted that in addition to conceiving/giving birth to the proband and his brother, the parents/mother suffered a miscarriage due to trisomy 18. Furthermore, a maternal nephew displays mild autism despite having normal intelligence, and the paternal great grandmother was stated to have an iris coloboma, though no records are available to confirm this. No one else in the family has been reported to have macrocephaly or significant cognitive disability.
Due to the proband's unique combination of symptoms, that is, macrocephaly and mild ASD, as well as normal PTEN sequencing results and normal comparative genomic hybridization (CGH) array results, DES was undertaken at age 6 years. We performed family trio-DES on genomic DNA (gDNA) isolated from the blood leukocytes of the proband, mother and brother. We then analyzed the resultant NGS data through bioinformatic filtering, inheritance modeling and finally, expert medical review. In so doing, we discovered that the likely molecular lesion underlying the brothers' symptoms is the MTOR missense alteration, p.E1799K (c.5395G>A).
Methods
Statement of ethics
All research described in this case report was conducted in accordance with the World Medical Association Declaration of Helsinki. Furthermore, the clinical information presented herein was collected during the routine clinical care of a patient in the United States; thus, in accordance with US law, this study is exempt from Institutional Research Board approval. In order to perform the variant filtering and co-segregation analysis that are integral to the exome trio sequencing test, it is necessary to include relevant family member samples in the sequencing trio. This format, which is currently a standard approach for clinical exome testing, is explicitly stated on the test requisition form. The mother of the patient approved the inclusion of all family members in the test. Further, all subjects provided signed, written informed consent to participate in this study. Written informed consent from the parents of the 6 year-old proband, as well as the written informed consent from the 23 year-old brother have been obtained for the publication of this case report and any accompanying images.
Diagnostic exome sequencing (DES)
Genomic DNA was isolated from whole blood extracted from each family member utilizing the QIAsymphony gDNA extraction system (Qiagen, Hilden, Germany). Samples were prepared using either the SureSelect Target Enrichment System (Agilent Technologies, Santa Clara, CA) [24] or the SeqCap EZ VCRome 2.0 system (Roche NimbleGen, Madison, WI) [25]. Briefly, each DNA sample was sheared, blunt-end repaired, and ligated to indexed adapters. Utilizing solution-based hybridization with oligonucleotide probes, the coding exons and neighboring intronic sequence of each genome were enriched, while off-target sequences were washed away. The resultant enriched exome libraries were applied to the solid surface flow cell of an Illumina HiSeq 2000 sequencer (Illumina, San Diego, CA) for clonal amplification and sequencing using paired-end, 100-cycle chemistry.
NGS data analysis
The acquisition and processing of data, alignment of sequence to Genome Reference Consortium Human genome build 37 (GRCh37), and bioinformatic filtering were performed as described in Farwell et al., 2014 [26]. Initial data processing/base calling, including extraction of cluster intensities, was performed using RTA 1.12.4 (HiSeq Control Software 1.4.5). The sequence quality filtering script was executed using Illumina CASAVA software (ver 1.8.2, Illumina, Hayward, CA). Sequencing run metrics, including data yield (Mbases), %PF (pass-filter), number of reads, per cent of raw clusters per lane, and quality scores, were recorded in the Demultiplex_Stats.htm file and verified to surpass quality thresholds. Sequences were aligned to the human genome reference sequence GRCh37 and variant calls were generated using CASAVA and Pindel [27]. All exonic sequence and a minimum of 2 bases of flanking intronic sequence were analyzed. Data analysis focused on nonsense variants, small insertions and deletions, canonical splice site alterations, and non-synonymous missense alterations. Previously described gene mutations and polymorphisms were screened using resources that included the Human Gene Mutation Database Professional 2011.3 (HGMD 2011.3) [28], the Single Nucleotide Polymorphism database (dbSNP) [29], 1000 genomes [30], HapMap data [31] and NCBI resources such as PubMed. Importantly, the in silico filtering pipeline protected all variants annotated within the HGMD 2011.3 [28] and/ or the Online Mendelian Inheritance in Man (OMIM) database. Stepwise filtering included the removal of common Single Nucleotide Polymorphisms (SNPs), intergenic and 3′/5′ UTR (untranslated region) variants, non-splice-related intronic variants, and synonymous variants. Remaining variants were filtered for family history using models of inheritance. For every filtered variant, Ambry Variant Analyzer (AVA) was utilized to annotate the data, which included nucleotide and amino acid conservation; biochemical nature of the amino acid substitution; population frequency as tabulated in the ESP and 1000 genomes [30] databases; and finally, the impact of the nucleotide substitution on protein function, as predicted by the in silico modeling algorithms PolyPhen [32] and SIFT [33]. Importantly, each candidate alteration was reviewed by a molecular geneticist in order to assess the likelihood of pathogenicity. NGS alignments were viewed using the Integrative Genomics Viewer (IGV) software (Broad Institute, Cambridge, MA) [34].
Microsatellite analysis
Short tandem repeat (STR) analysis was performed on each family member. Briefly, seven independent loci situated on separate chromosomes were amplified with fluorescently labeled primers and the resultant products electrophoresed on an ABI3730 DNA sequencer.
Co-segregation analysis
Candidate alterations identified as potentially causative were confirmed using automated fluorescence dideoxy Sanger sequencing. Co-segregation analysis was performed on each available family member. Target specific primers were designed to include 5′ terminal sense and antisense sequencing tags. The gene-specific moieties of the primers were designed with the aid of PrimerZ [35]; oligonucleotides were synthesized by Integrated DNA Technologies (Coralville, IA) and sequencing was performed on an automated ABI3730 DNA sequencer (Life Technologies, Carlsbad, CA) according to standard procedures.
Computational-structural modeling
The crystal structure of MTOR (PDB:4JSP) was used to model the location of the observed variant, MTOR p.E1799 [36]. Visualization of the local environment structure and overlap of the variant amino acid were performed in PyMOL (The Open Source PyMOL Molecular Graphics System, Version 1.7.x Schrödinger, LLC).
Conclusions
Herein, we demonstrate that the MTOR missense variant p.E1799K is a pathogenic mutation that results in hyperactivation of MTOR kinase activity and causes megalencephaly/ macrocephaly and neurological impairment in humans. We demonstrate that p.E1799K exerts its effects on the developing brain by A ) causing increased protein synthesis that is either exaggerated or decoupled from normal development cues during key temporal windows, and by B ) potentially causing inflammation/ allergic reactions in the brain that could potentiate the development of focal lesions. It is of interest that both affected brothers in this study suffer from allergies. Finally, we suggest that because cells which carry the MTOR p.E1799K mutation are hyper-responsive to Rapamycin, treatment with this drug during post-natal development may prove beneficial in alleviating the craniofacial and neurological symptoms that develop in children who harbor hyper-activating MTOR mutations. Pre-clinical and clinical trials will be necessary to bear out this notion.
Consent
The family described in this report has provided us with their written consent to have their clinical histories and photographs published.
Abbreviations
4E-BP1 AKT:

Eukaryotic Translation Initiation Factor 4E-Binding Protein 1 AKT/ Protein Kinase B
ASD:

Autism Spectrum Disorder
AVA:

Ambry Variant Analyzer
CGH:

Comparative Genomic Hybridization
dbSNP:

Database of Single Nucleotide Polymorphism
DES:

Diagnostic Exome Sequencing
ESP:

Exome Sequencing Project
ExAC:

Exome Aggregation Consortium
FAT:

FKBP12-Rapamycin-Associated Protein/ TOR, Ataxia-Telangiectasia, Transactivation/ Transformation Domain-Associated Protein
FATC:

FAT C-Terminal
FCM:

Focal Cortical Malformation
FRB:

FKBP12-Rapamycin Binding
gDNA:

Genomic DNA
GOF:

Gain-of-Function
GRCh37:

Genome Reference Consortium Human Genome Build 37
HEAT:

Huntington Elongation Factor 3, A Subunit of PP2A TOR1
HGMD 2011.3:

Human Gene Mutation Database Professional 2011.3
ID:

Intellectual Disability
KD:

Kinase Domain
KIN:

Kinase Domain
LOF:

Loss-of-Function
MTOR:

Mammalian Target of Rapamycin
NGS:

Next Generation Sequencing
NT:

Neurotensin
OMIM:

Online Mendelian Inheritance in Man
OPHN1:

Oligophrenin-1
PBMC:

Peripheral Blood Mononuclear Cell
PI3K:

Phosphoinositide 3-Kinase
PIK3R1:

Phosphatidylinositol 3-Kinase, Regulatory Subunit 1
PTEN:

Phosphatase and Tensin Homologue
RAS:

Rat Sarcoma Viral Oncogene Homolog
S6:

Ribosomal P70 S6
S6K:

Ribosomal P70 S6 Kinase
SHORT:

Short Stature, Hyperextensibility, Hernia, Ocular Depression, Rieger Anomaly, and Teething Delay
SNP:

Single Nucleotide Polymorphism
STR:

Short Tandem Repeat
TORC1:

MTOR Complex 1
TORC2:

MTOR Complex 2
TSC:

Tuberous Sclerosis Complex
UTR:

Untranslated Region
VUS:

Variant of Uncertain Significance
WES:

Whole Exome Sequencing
Declarations
Acknowledgements
We are grateful to the patients and family members for giving us permission to publish their clinical data in this report.
Open AccessThis article is distributed under the terms of the Creative Commons Attribution 4.0 International License (http://creativecommons.org/licenses/by/4.0/), which permits unrestricted use, distribution, and reproduction in any medium, provided you give appropriate credit to the original author(s) and the source, provide a link to the Creative Commons license, and indicate if changes were made. The Creative Commons Public Domain Dedication waiver (http://creativecommons.org/publicdomain/zero/1.0/) applies to the data made available in this article, unless otherwise stated.
Authors' Affiliations
(1)
Ambry Genetics Corporation, Aliso Viejo, USA
(2)
Marshfield Clinic Research Foundation, Marshfield, USA