Research article
Open Access
Open Peer Review
This article has Open Peer Review reports available.
BAC array CGH in patients with Velocardiofacial syndrome-like features reveals genomic aberrations on chromosome region 1q21.1
BMC Medical Genetics
2009
10:144
Received: 14 January 2009
Accepted: 23 December 2009
Published: 23 December 2009
Abstract
Background
Microdeletion of the chromosome 22q11.2 region is the most common genetic aberration among patients with velocardiofacial syndrome (VCFS) but a subset of subjects do not show alterations of this chromosome region.
Methods
We analyzed 18 patients with VCFS-like features by comparative genomic hybridisation (aCGH) array and performed a face-to-face slide hybridization with two different arrays: a whole genome and a chromosome 22-specific BAC array. Putative rearrangements were confirmed by FISH and MLPA assays.
Results
One patient carried a combination of rearrangements on 1q21.1, consisting in a microduplication of 212 kb and a close microdeletion of 1.15 Mb, previously reported in patients with variable phenotypes, including mental retardation, congenital heart defects (CHD) and schizophrenia. While 326 control samples were negative for both 1q21.1 rearrangements, one of 73 patients carried the same 212-kb microduplication, reciprocal to TAR microdeletion syndrome. Also, we detected four copy number variants (CNVs) inherited from one parent (a 744-kb duplication on 10q11.22; a 160 kb duplication and deletion on 22q11.21 in two cases; and a gain of 140 kb on 22q13.2), not present in control subjects, raising the potential role of these CNVs in the VCFS-like phenotype.
Conclusions
Our results confirmed aCGH as a successful strategy in order to characterize additional submicroscopic aberrations in patients with VCF-like features that fail to show alterations in 22q11.2 region. We report a 212-kb microduplication on 1q21.1, detected in two patients, which may contribute to CHD.
Keywords
Congenital Heart DefectCongenital Heart DiseaseDysmorphic Facial FeatureVelocardiofacial SyndromeCharacteristic Facial Feature
Background
The hemizygous chromosome 22q11.2 microdeletion occurs in approximately 1:4000-6000 live births [1, 2], being the most common genomic aberration among patients clinically diagnosed with velocardiofacial syndrome (VCFS) or DiGeorge syndrome (DGS). Main clinical symptoms include palatal abnormalities, particularly velopharingeal incompetence, with feeding difficulties reported in most (69%) young patients, conotruncal heart defect, characteristic facial features (long face, broad/tubular nose, hooded eyelids, hypertelorism, ear abnormalities and retrognathia), immune deficiency (involving the respiratory tract in up to 77% of cases), motor and developmental delay, learning disabilities, speech delay and language deficits. Behavioural manifestations, such as attention-deficit-hyperactivity disorder (ADHD) and other psychiatric illness in adult patients are also frequent [3–9]. Overall, more than 180 clinical features have been associated with the 22q11.2 microdeletion syndrome http://www.vcfsef.org[9].
The frequency of the 22q11.2 microdeletion varies with the nature of the clinical findings. In infants with a congenital heart defect and no other apparent syndromic features, or with a cleft palate alone, the frequency of chromosome 22q11.2 microdeletion was reported to be very low (0-1% and 1.8%) [10, 11]. The wide phenotypic spectrum and the highly diverse clinical features, which frequently overlap with other defined or undefined clinical entities, lead to difficulties in the clinical testing. Other unrelated chromosomal abnormalities have been reported in 2-4% of patients with suspect of VCFS, including microscopic inversions and interchromosomal imbalances, derivatives of parental translocations, marker chromosomes, apparently balanced translocations, ring chromosomes and sex chromosomes aneuploidies [12–15]. Deletions involving contiguous genes on chromosome 10p have also been reported in some patients with VCFS features [16–18], while mutations in gene T-box 1 (TBX1) account only for a few of reported cases [19, 20].
Nowadays, in genetic testing laboratories, the most common procedure for the diagnosis of this syndrome is by classical cytogenetic karyotyping, which is unable to detect imbalances smaller than 5-10 megabases (Mb), and by fluorescent in-situ hybridization (FISH) using commercially available probes N25 or TUPLE1. FISH allows the detection of the most common 3 Mb deletion as well as the nested 1.5 Mb deletion. More recently, PCR-based multiplex ligation-dependent probe amplification (MLPA) has emerged as a cost-effective and accurate diagnostic tool for the analysis of imbalances in the 22q11.2 region. The commercial MLPA assay (Salsa P023B, MRC Holland, The Netherlands) contains probes for several other chromosomal regions such as 10p12-15, 8p21-p23, 4q22-q35, 17p13 and 18q21 based on findings of alterations of these regions in a number of reported patients with DGS/VCFS. However, there is still a subset of patients with VCFS that does not show any chromosomal aberration detectable with the above-mentioned techniques. Many of those VCFS-like patients present common clinical features, like congenital heart disease (CHD), learning disabilities and characteristic facial features, which suggest that a common chromosomal imbalance could be the underlying cause.
Array-based comparative genomic hybridization (aCGH) has successfully been used for detecting genome dosage alterations in children with mental retardation, dysmorphic features and in patients with CHD [21–24]. This technique dramatically increases the resolution and ability to detect copy number alterations compared to conventional cytogenetic methods and allows for a rapid genome-wide screening of submicroscopic copy number aberrations.
Our study was designed to identify submicroscopic genomic alterations important for the pathogenesis of patients with VCFS-like features without the typical 22q11.2 microdeletion. We used two different array designs as screening tools for whole genome and chromosome 22-specific analysis. We describe a novel region on 1q21.1 with a potentially important implication for the CHD and VCFS-like clinical features, and identify several copy number variants (CNVs) inherited from unaffected parents which could contribute to the VCFS-like phenotype.
Results
The whole-genome 5.6 K and the chromosome 22-specific BAC-arrays were used to study 18 patients with the VCFS-like phenotype. We identified a total of 81 clones with genomic dosage changes, belonging to 45 different chromosomal regions (14 losses, 14 gains and 17 with signals in both directions) [see Additional file
1
: Supplemental Table S1]. All chromosomal changes were compared with the information deposited in the Database of Genomic Variants (Build 36)
http://projects.tcag.ca/variation/
[
31
]. 39 loci had been reported as CNVs in the database and 20 of them were also detected as common variants in 20 control samples previously hybridized on the same 5.6 K BAC-array [
25
]. The aim of this study was screening for submicroscopic deletions and duplications underlying several malformations such as heart defect, palatal abnormalities or mental delay, for this reason individual clones that were reported polymorphic in normal individuals and also the loci identified as variable in our control samples were excluded. We selected eleven loci for further MLPA validation, none of which were present in control samples: six had not been previously described as CNVs and five regions overlapped with previously reported CNVs, but had been chosen after the imbalance of various consecutive clones in the samples (encompassing regions >150 kb and up to 1.15 Mb) [see Additional file
1
: Supplemental Table S1]. Five of the eleven CNVs identified by CGH were validated by MLPA and screened by the same technique in parental samples (Table
1
). The remaining six loci could not be validated by MLPA although at least two different probes per region were assayed. Oligonucleotide sequences used for MLPA are shown in Additional file
1
: Supplemental Table S2.
Table 1
Summary of altered regions, parental analysis and major clinical features in patients with velocardiofacial-like syndrome (VCFS-like) validated by multiplex ligation-dependent probe amplification (MLPA).
Sample GAIN

Sample LOSS

Altered clones

Region

Size kb

Start (Build 36)

End (Build 36)

Genes

LOCUS (DGV)

MLPA probes

Inheritance

Clinical features

V5

RP11-315I20

RP11-293J20

1q21.1

212

144149999

144361868

TXNIP, POLR3GL, ANKRD34, LIX1L, RBM8A, PEX11B, ITGA10, ANKRD35, PIAS3, NUDT17, POLR3C, ZNF364

Locus 0305

GNRH2 PIAS3

de novo

Cardiac anomalies (coarctation of the aorta); Velopharyngeal insufficiency; dysmorphic facial features; language impairment, mental retardation, cognitive and learning problems, immunological abnormalities.

V5

RP11-337C18

RP11-533N14

RP11-314N2

RP11-301M17

RP11-115G11

1q21.1

1,150

145073765

146329018

PRKAB2, FMO5, CHD1L, BCL9, ACP6, GJA5, GJA8, GPRB9

Locus 0305

BCL9 NBPF1

de novo

V26

RP11-314P12

RP11-292F22

RP11-192A16

RP11-30N1

RP11-115A11

10q11.22

743,52

46487806

47231326

PPYR1, ANXA8L, CTGLF4

Locus 2984

PPYR1

Paternal

Mild dysmorphic facial features, mild mental retardation, psychological anomalies, phobias

V8

V24

RP11-818K20

RP11-444L7

22q11.21

159

19847992

20006849

-

Locus 4746

RP11-444L7

Both Paternal

V8: Dysmorphic facial features, learning disabilities mental retardation, father with schizophrenia

V24: Overt submucos palate, mild facial dysmorphic features, mild mental retardation, learning disabilities, autistic behaviour, (brother with cardiac anomalie)

V11

RP11-138G4

22q13.2

142

39422672

39564831

SLC25A17, ST13

SLC25A17b

Maternal

Dysmorphic facial features, learning disabilities, language impairment, attention deficit disorder
Characterization of de novogenomic imbalances on chromosome 1q21.1
An interstitial microduplication spanning two overlapping BAC clones, with an estimate size of 212 kb, and a microdeletion spanning five consecutive clones, with an estimate size of 1,15 Mb, on region 1q21.1 were found to occur
de-novo
in patient V5. The duplicated region (aCGH 1q21.1(B36:chr1:144149999-144361868++)) included 12 RefSeq Genes (
TXNIP, POLR3GL, ANKRD34A, LIX1L, RBM8A, PEX11B, ITGA10, ANKRD35, PIAS3, NUDT17, POLR3C, ZNF364
), and the deleted region (aCGH 1q21.1 (B36:chr1:145073765-146329018)) encompassed eight genes (
PRKAB2, FMO5, CHD1L, BCL9, ACP6, GJA5, GJA8, GPR89B, GPR89C, NBPF11
) (Figure
1
). FISH and MLPA analysis confirmed both rearrangements in patient V5, and excluded their presence in his parents (Figure
2
).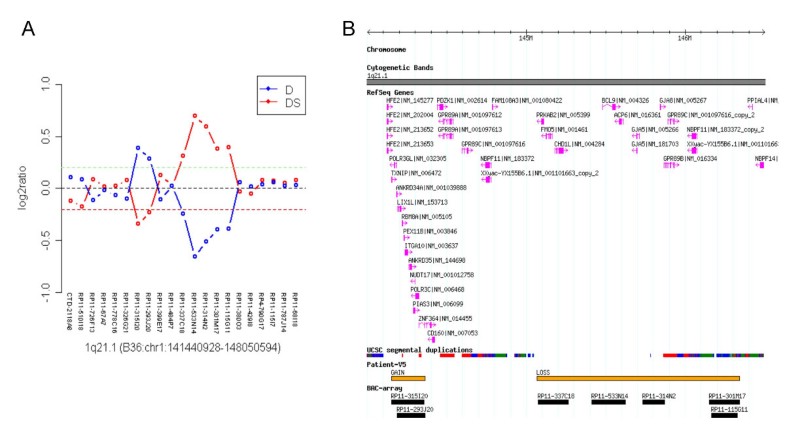 This patient is a 17 year old male with cardiac anomalies (coarctation of the aorta), some dysmorphic facial features (frontal balding, arched eyebrows, eyes deeply set and thin upper lip), velopharyngeal insufficiency with reported feeding problems in infancy (gastroesophageal reflux and frequent vomiting), language impairment, moderate mental retardation, low cognitive deficit and learning problems (irritability, attention deficit hyperactivity disorder), immunological abnormalities (frequent bronchitis), asthma, strabismus (surgery corrected at two years), small umbilical hernia, and fingers with mild camptodactyly, mild interdigital membrane and flat foot arches (Figure
3-A
). This patient was included in a previously published series that reported 22 probands with the 1q21.1 microdeletion [
30
]. We provide here additional clinical information of this case.

We screen the 1q21.1 region, on 73 additional cases with congenital heart defects by MLPA. We found one patient (case 112) with the same microduplication but without the contiguous deletion on 1q21.1, also present in his unaffected father. The clinical features of this patient were cardiac abnormalities (transposition of the great vessels, ventricular septal defect, pulmonary stenosis and right ventricular hypoplasia), braquicephaly and moderate clinodactyly (Figure 3-B). We also analysed 326 additional control DNA samples obtained from anonymous unrelated blood donors using the same MLPA probe mix. All control samples were negative for both rearrangements.
To carefully delineate alterations in the 1q21.1 region, the samples V5 and 112 were also hybridized with a custom oligo array with 1,155 probes being from the 1q21.1 region, as described in [30]. Results confirmed the complex microduplication/microdeletion in case V5 and that both patients shared the same microduplication, reciprocal to the TAR syndrome microdeletion [see Additional file 2: Supplemental Figure S4].
Identification of inherited aberrations
Four of the validated aberrations were CNVs inherited from one of the parents (Table 1), three overlapping with loci previously reported as CNVs in the reference Database of Genomic Variants http://projects.tcag.ca/variation/[31]. A 744-kb duplication on 10q11.22 involving five clones was identified in patient V26, showing facial dysmorphism, learning disability, mild mental retardation and behavioural problems. MLPA with one specific probe on PPYR1 showed a gain in the patient and his father.
With the chromosome 22 tiling array we identified aberrations involving the deletion of two clones on the 22q11.2 region (160 kb) in two cases. Patients V8 and V24 with dysmorphic facial features, low mental retardation and behavioural problems showed a gain and a loss respectively, both paternally inherited. Finally, a gain of BAC RP11-138G4, located on 22q13.2, which was maternally inherited, was also identified with this chromosome-specific array. This region has not been reported in the literature as a CNV and spans the SLC25A17 gene that encodes a peroxisomal membrane protein belonging to the family of mitochondrial solute carriers [OMIM *606795]. This BAC clone also includes six exons of the ST13 gene, encoding a highly conserved protein that binds the major cytosolic chaperones heat-shock proteins HSP70 and HSP90.
Discussion
The VCFS is a genomic disorder due to a hemizygous deletion on chromosome 22q11.2. Our set of 18 patients showed clinical features compatible with VCFS- like cardiac anomalies, learning disabilities and characteristic facial features but lacked the typical 22q11.2 deletion. We screened our patients with VCF-like phenotypes with two different custom-made aCGH (BAC-based whole genome and chromosome 22 specific tiling path). The genome-wide analysis of structural variations allowed us to identify de novo genomic rearrangements and inherited CNVs in these patients.
Five out of the 11 altered regions selected for validation were confirmed by MLPA, while the other six showed no variation. Although the non-confirmed CNVs were screened with two MLPA different probes, indicating that they could be aCGH false positives, we have to consider the possibility that the designed MLPA probes might lie outside the BAC variable region. Recent reports indicate that the size of the CNVs identified by BAC arrays is likely to be overestimated. In fact, the concordance rate for CNVs identified by two different platforms (BAC vs. SNP arrays) was less than half (43%) when studying the same individuals [32]. Concerning the five validated variations, the analysis of parental samples revealed that four of them were inherited. The presence of parents carrying these CNVs but without clinically evident phenotypes raises the issue of whether these CNVs are benign or pathogenic variants with incomplete penetrance. Indeed, some well-characterized syndromes such as the 22q11.2 microdeletion or the reciprocal microduplication, include phenotypically mild deletion carriers that have escaped clinical recognition until they had children with more severe manifestations. Furthermore, it is still possible that the presence of an inherited CNV, especially deletions, could be uncovering a recessive allele inherited from the other parent. Further work in this direction would be required to evaluate these hypotheses.
Two de-novo chromosome rearrangements were identified by aCGH and MLPA analysis in one patient with VCFS-like features. This is, to our knowledge, the first time that this combination of two CNVs (an interstitial microduplication, spanning 2 BAC clones with an estimate size of 212 kb (chr1: 144149999-144361868) and a contiguous microdeletion spanning 5 BAC clones with an estimate size of 1.15 Mb (chr1:145068638-146342725) is found associated with such a phenotype.
This 1.15-Mb microdeletion was first reported in three cases of CHD. The authors screened by real-time quantitative PCR a total of 505 unrelated congenital heart disease cases for deletions or duplications of Cx40 gene (GJA5) and identified three cases with a 1.5 to 3-Mb deletion of this region; however the microdeletion was also present in some unaffected parents [33]. Recently, this 1.15 Mb microdeletion has been associated with schizophrenia and it has also been reported in individuals with considerable phenotypic diversity including cardiac abnormalities, mild-to-moderate mental retardation, microcephaly, cataracts, mullerian aplasia, and autism [30, 32–39]. Nowadays, the main clinical features associated with this rearrangement are still unclear and the evaluation of family members has revealed apparently unaffected carriers, making genetic counselling difficult. However, the absence of this rearrangement in more than 5,000 normal individuals analyzed suggests that this structural variant is rare, and probably contains important modifiers since it exhibits incomplete penetrance.
Eight genes of this region could be involved in a wide variety of phenotypic features, at least two potentially involved in cardiac defects: PRKAB2 and GJA5 (Cx40), both expressed in the heart. A Cx40 heterozygous knockout mice (+/-) has been shown to develop a number of cardiac malformations including bifid atrial appendage, ventricular septal defect, tetralogy of Fallot and aortic arch abnormalities [40]. GJA8 has previously been reported associated with schizophrenia [41].
Although previous individuals have been found to carry this microdeletion (1.15 Mb), this is the first time that it is reported in concurrence with the contiguous microduplication (212 kb). The only evident clinical feature shared by the two cases reported here is the CHD. This region contains numerous segmental duplications that could mediate genomic rearrangements. Some larger rearrangements encompassing the 1q21.1 region have been reported associated with varying phenotypes that included dysmorphic features, hypotonia or mental retardation. Among those, there are some cases with supernumerary marker or ring chromosomes derived from the pericentromeric region of chromosome 1 plus q-arm euchromatic fragments, [42–45]. Furthermore, it has been reported that the reciprocal microdeletion of 1q21.1 is necessary but not sufficient to cause TAR syndrome [46], characterized by bilateral absence of the radii and thrombocytopenia, also the lower limbs, gastrointestinal, cardiovascular and other systems may be involved [47].
Conclusions
In summary, this is the first study in which aCGH is used to investigate patients with VCFS-like phenotype without the classical 22q11.2 molecular rearrangement. aCGH provides a successful strategy in order to characterize additional submicroscopic aberrations in patients that fail to show alterations in 22q11.2. We have identified a rare and de novo 1q21.1 microdeletion and a novel microduplication that could be associated with CHD. Further new cases shall contribute to delineate more precisely the clinical implications of these newly recognized genomic alterations on 1q21.1 loci and their implication in CHD.
List of abbreviations used
aCGH:

Array-based comparative genomic hybridization
ADHD:

attention-deficit-hyperactivity disorder
CHD:

congenital heart defects
CNVs:

Copy number variants
DGS:

DiGeorge Syndrome
FISH:

fluorescence in situ hybridization
MLPA:

multiplex ligation-dependent probe amplification
TAR:

thrombocytopenia-absent radius
VCFS:

Velocardiofacial syndrome.
Declarations
Acknowledgements
We are indebted to patients and relatives for their support. Written consent was obtained from the patients or their relatives for publication of the patient's image. This work was funded by the Spanish Ministry of Health (RETIC G03/184 to XE and MG), the Spanish Ministry of Education and Science (SAF2005-01005 to XE), the Spanish Ministry of Science and Innovation (SAF2008-00357 to XE), the European Commission (EU FP6 037627) and Fundació Parc Taulí Institut Universitari, Sabadell.
Authors' Affiliations
(1)
Genes and Disease Program, CIBER en Epidemiología y Salud Pública (CIBERESP), Center for Genomic Regulation (CRG), Barcelona, Spain
(2)
Genetic laboratory UDIAT-Centre Diagnòstic, Fundació Parc Taulí - Institut Universitari UAB, Corporació Sanitària Parc Taulí, Sabadell, Spain
(3)
Hospital Universitari Son Dureta, Mallorca, Spain
(4)
Pompeu Fabra University (UPF), Barcelona, Spain
Copyright
© Brunet et al; licensee BioMed Central Ltd. 2009
This article is published under license to BioMed Central Ltd. This is an Open Access article distributed under the terms of the Creative Commons Attribution License (http://creativecommons.org/licenses/by/2.0), which permits unrestricted use, distribution, and reproduction in any medium, provided the original work is properly cited.